Healing Package
Healing Starts Now
- Comprehensive Manual on Healing (book) by Joan Hunter
Regular Price $29.99
Fountains of Healing
(soaking CD) by Lane Sitz and Jeremy Lopez
Regular Price $16.99
Stories of Supernatural Healing
(book) by Sid Roth
Regular Price $17.99
Package Regular Price $64.97
Save 35%
NOW $42.24


Limited Time Offer

(For More Information See Below)

________________________________________________________________________



Healing Starts Now


Comprehensive Manual on Healing
by Joan Hunter


One day as He [Jesus] was teaching the power of the Lord was present for Him to heal the sick (Luke 5:17 NIV). This same power is present in you today!
Author Joan Hunter has been praying for the sick for 40 years, and has seen multiple thousands of miracles and healings.
You too can:
Receive and retain healing.

Allow God to use you.

Know how to approach someone who needs healing.

Effectively pray for healing.

Lay hands on the sick and they will recover (Mark 16:18b).

Fulfill the Great Commission.
Healing Starts Now contains the clearest and simplest instructions for ministering healing ever written. It takes much of the mystery out of healing prayer, and your fear of praying for the sick will disappear.
You will pray for the sick with confidence, knowing God will heal. The book is full of proven effective directions and diagrams that precisely detail how to heal the sick along with specific prayers for hundreds of conditions.
You will lay hands on the sick and they will recover!
______________________________________________________________________________________


Fountains of Healing
Instrumental, Meditative Music to Bring
You to Rest and Relaxation in the Spirit


(Soaking CD)


by Identity Network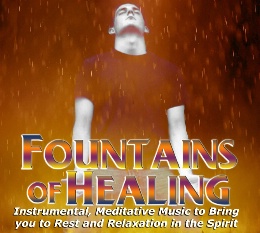 Do
yo
u desire to have waters of heaven flow over you? This CD will speak to your mind and body as the oil and rain of the heavenlies pour over you to bring a sense of wholeness and awakening to who you are. As you listen you will sense the angels beginning to stir the waters of Bethesda inside of you to usher in a river and flow of divine peace and healing.
Fountains of healing is a must for those who have a desire for the cleansing power of the waters of heaven to restore and make them whole again.

Track Listing
All is Well

Soothing Oil

Streams of Healing

Awake to Wholeness

Pool of Bethesda

Stirring the Waters
______________________________________________________________________________________
Stories of Supernatural Healing
Signs, Wonders, and Miracles (Book 2)
by Sid Roth
I believe that God will use one or more ideas in this book to build your faith for healing and that the healing anointing will splash off the pages as you read these testimonies. -Sid Roth
Stories of Supernatural Healing is an exciting collection of true stories by regular people who have experienced God's miracle working power. God is still healing, and He wants to heal you today!

Examples of life-changing, personal experiences and topics:
* Pastor Ron Phillips-Our Angelic Allies
* Ana Mendez Ferrell-Power of Communion
* David Herzog-The Glory Realm
* Katie Souza-Healing Light
* Dr. Paul Hegstrom-Overcome Domestic Violence
* Cindy Parton-Soaking in God's Presence
* Dr. Art Mathias-Freedom From Toxic Emotions
Stories of Supernatural Healing inspire hope, strengthen faith, and illustrate the Father's desire to heal and restore. Each story is unique, specific, and thought-provoking, opening the door for you to take hold of a deeper relationship with God.
Product Details
| | |
| --- | --- |
| In Stock: Yes | Weight: 3 lbs. |