The Wisdom in Writing Series

Welcome to the Wisdom in Writing Series-a step-by-step guide to the international trade standard publishing industry, created by publishers for authors like you. Whether you're a brand-new author setting out to publish your first book or a seasoned author wanting to get a better grasp of the industry's workings and how you can best capitalize on your opportunities within it, this series is for you.
The Wisdom in Writing Series has helpful tips and guidance for you, the author, at every stage of your journey. If you're still working on your book, editors will coach you in the craft of writing. If you're contemplating how to go about finding the right publisher, seasoned professionals in the field lay out the various options and give you an insider's look at what they want to see in a prospective author. If you've been here before and are working on further writing projects, there are tools to help you organize your process and detailed explanations of the industry to help you as an author become a more informed part of it.
While there is no such thing as a secret formula to make any book a guaranteed bestseller, there are many good ideas within the pages of these books that will help you write better, publish successfully, and be educated in the many decisions that you, the author, will have to make. No one person has all the answers in this field, but the authors share what they do have-experience in the industry, and the wisdom it brings. Pick up the Wisdom in Writing Series and see for yourself!
Meet the Writers
Andy Sanders is the founder of 5 Fold Media and was called into the publishing industry in 1999. 5 Fold Media is the original publisher of a Bible translation that has sold over 300,000 copies. Andy is a former writer for international writing venues with a combined audience of over 350,000 people. Andy has traveled in twenty-seven states and several foreign countries, many times with his wife, Cathy, and their two children. Andy has a BA from Central Bible College, and he carries a Masters and Doctorate in Christian Education from Freedom Seminary, graduating with honors.
Cathy Sanders is a writer and has been in ministry for over twenty years. She understands how to apply Scripture to everyday writing situations. She has worked full time as the project manager for over one hundred titles since the beginning of 5 Fold Media. One project that was under her care has now sold over 300,000 copies. Cathy has a BA from Central Bible College, and a Masters and Doctorate in Christian Education from Freedom Seminary, graduating with honors. Andy and Cathy reside in New York.
Ellen King has taught English/Literature classes to home educated students for the last ten years. She has been the lead editor for 5 Fold Media since 2012 and has contributed to several newsletters. Ellen was the main editor for a Bible project that has now sold over 220,000 copies. She earned an associates degree in liberal arts in 2011. Ellen and her family reside in upstate New York.
Tammy Fitzgerald has been a freelance editor for eight years, contracting with publishing companies both large and small, local and international. She has handled numerous bestsellers and bestselling authors, as well as brand new authors just starting out. She has a Bachelor's degree in English literature and creative writing and is certified to teach writing and English. She completed her first short story at the age of two, in pictographic crayon, and was much later published in ink on paper. She currently lives in Pennsylvania.
Kathy Dolman is the author of The Light at Hope's End and The Miracle at Hope's End. As a former acquisition editor for 5 Fold Media, she has been afforded the experience of being the gatekeeper of many first-time authors' writings. She has also taught writing workshops to inform, encourage, and empower budding authors and seasoned professionals looking to hone their craft. Her passion is to see God work in and through these would-be authors' lives and hearts to touch others for the kingdom of God.
The Books
---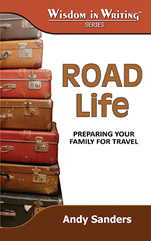 Are you an author or a minister setting out to take your message to the masses? Are you facing the prospect of becoming a traveling speaker, trying to prepare for the circumstances you expect, and worrying that there are countless more you can't even begin to anticipate? Are you debating whether to travel alone or attempt to bring your family along? Is that even possible?
The Sanders have been there, and in this book Andy shares their real-life experiences and advice for any traveling author or speaker. Having spent years on the road as a family, children and all, they have faced the unexpected in countless surprises. In traveling through twenty-seven states and several foreign countries, they have learned what to do, what not to do, and where to be cautious. For anyone who has not lived on the road, this book is an eye-opener; for someone facing the prospect of bringing their family into a traveling ministry, this is a must-read!
---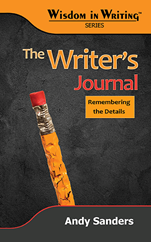 Details, details, details! Writing a book and getting it published is a multifaceted process with countless things to remember. There are professional contacts to remember, technical details to keep track of, and personal information to file. There are lessons you learn-what not to do next time, what to do a little differently, what to definitely do again because it worked great. If you don't keep it all together in one place, chances are you will forget critical information about the publishing process.
This author's journal was designed to be the perfect place to keep all your notes, data, and reflections on the process of writing and publishing your book. Once the book is done, this journal can be an invaluable resource for any future book projects that come down the road. Listen to that faithful bit of advice all your teachers gave you and write it down! Your success as an author could depend on it!
---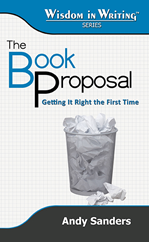 So you're looking at publisher's websites and thinking about sending that manuscript all over. You'd like to get a crowd of publishers lining up to make you the best offers available, but you don't want to just end up with a pile of rejection letters. You may have heard about this thing called a "book proposal," but what is that, and do you really need it?
Andy Sanders, a professional writer and the founder of 5 Fold Media, is here to explain every important detail of the book proposal-what it is, why you need it (and yes, you definitely do), and what you should be prepared to include on it. He also shares some tips for catching that publisher's eye, standing out, and evaluating your current writing platform. If there are overlooked areas in your marketing campaign and personal sales strategies, Andy will help you find them. Pick up this book, check all the important steps, and get ready to make a huge leap forward!
---
When you set out to become an author, did you ever expect the "getting published" part to be so confusing? Writing a book can seem hard enough; now that you're done, why does talking to publishers make you feel like you don't speak the same English they do?
This book will be your handy reference guide to publishing terminology-your dictionary of the language of the publishing industry, written by native speakers who are themselves fluent in it. With succinct explanations of terms and where they all fit in the process of publication, publishers Andy and Cathy Sanders have constructed a glossary for the author-you! Not only will this book help you understand the lingo, it will clarify much of the process you are about to undertake. Written by professional publisher.
---
You wrote the book, the publisher or your team put it on paper, and now everyone will just buy it in their local bookstore and online, right? Surprise! Book distribution is a little more complicated than that.
What is book distribution? How does it work? And what sort of approach is the best fit for you? Getting Your Book Out There sets out to answer these questions and bring clarity to a subject most people know very little about-the intricate process of putting a book out there into international distribution and actually selling it. How do you get your book into a major chain store, how long will it stay there, and is that even the best avenue for you to take if you want to turn a profit?
This book gives you the inside scoop, direct from the publishers themselves who have worked with some of the largest distributors in the world, explaining all the ins and outs of this mysterious process. Pick it up and arm yourself with a thorough understanding of distribution, and you'll be a big step ahead on your writing and publishing journey!
---
The book is written, and now you've even found a publisher-but there's more to do before the final product arrives at your door. The process is still ongoing, and you need to know what to expect from it, or you're in for a rude awakening. If you expect the publisher to handle everything from here on out-they have some things they need from you! If you were thinking that they'd do everything exactly as you have planned-guess what? They have their own plans for how they're going to take your manuscript and make it a finished book. The process will involve compromise, both you and the publisher working together, and there are ways to make this go smoothly-or there are ways to throw a wrench in it and kill the whole project!
Cathy Sanders has been head of product development for 5 Fold Media from its inception, and she has walked hundreds of books and hundreds of authors just like you through the publishing process from start to finish. She has seen the major struggles that crop up, and she's here to help guide you through what to really expect and how you, as the author, can make yourself a delight to work with-and your finished book the best success it can be!
---
Every author gets their fair share of advice about writing and getting your book to the masses. You've probably heard a lot-but have you gotten God's advice on writing? He wrote a book too, and it even includes some advice for you! The Writer's Scripture Guide is your resource-it brings these amazing Scriptures together in a place where you can find them and get God's advice on your writing project.
This Scripture guide was designed with you in mind. It is organized topically to cover a writer's most common concerns, from wise planning, to how to handle delays, to even being creative. You will also discover how to how to approach encouraging and discouraging comments you may receive about your projects. With each topic there are instructions and tips for how you can read, meditate on, and use these Scriptures to help your writing career.
Whether you're writing a Christian book or not, fiction or nonfiction, this guide gives you God's Word on the subject of your book!
---
So you want to be a writer-you've written a book, or you're just starting to get your ideas down. But in the back of your mind, you know the time is coming-that dreaded moment when an editor first reads your work, wielding their red pen of doom. Will your book hold up under scrutiny? Will you lose all hope and give up if your manuscript ends up riddled with corrections? Is it even worth it to go on from here, faced with this inevitable and mysterious trial?
What if you knew in advance what your editor was going to be looking for? What if you had a "cheat sheet" for the exam they'll be putting your book through? What if you could get your pointers straight from an editor and polish your manuscript in advance?
In this book, Ellen King gives you that "cheat sheet"-a 15-item list of things to watch out for, work on, and clean up. Having edited countless books-the brain children of authors just like you-she gives you 15 pointers representing the most common pitfalls you might be making without realizing it. With clear explanations and examples, Ellen shows you the mistakes she has seen, explains why they create problems for your book, and then offers examples of other ways to get your ideas across. Her solutions show you the best possible way to effectively connect with your readers.
---
So you want to write a book? Or maybe you did that part already, and now you want to get published? Are you wondering if your book is good enough for print? Have you always wanted to write a book, but you aren't sure that's a goal you can achieve? Perhaps you have written a book and now you are ready to take your writing to the next level?
Here's a little coaching from your friendly professional book editor.
The hardest part for a lot of writers can often be getting good feedback-solid, helpful, concrete tips that point them in the right direction. In this book, you'll find excellent guidance as you work through the process of writing, plus helpful self-tests to see how good your book is once it's done. Whether you're writing fiction or nonfiction, whether you're finished or still just brainstorming or somewhere in between, this book has something for you. Educational, thought-provoking, and above all-encouraging! If you are a writer, this book is for you!
---
If you had one sure-fire trick to give your book that can't-put-it-down factor? Well, you're in luck! This book will teach you that one trick-the hook!
It has been said that the average reader determines whether they will buy a book or not in about four seconds. That is not much time! The first impressions of your book must be catchy or the reader will move on.
Kathy Dolman is a published author and acquisitions agent who has read countless books. In this book, she shares her one secret to catching a reader's eye-the hook. The gripping opening that helps to takes your book from the "maybe" pile to the top of the "yes" list! Kathy gives you pointers on picking the type of hook to use and crafting the perfect opener for any book. Take her advice and create a hook that will grip your readers and keep them coming back for more!
---