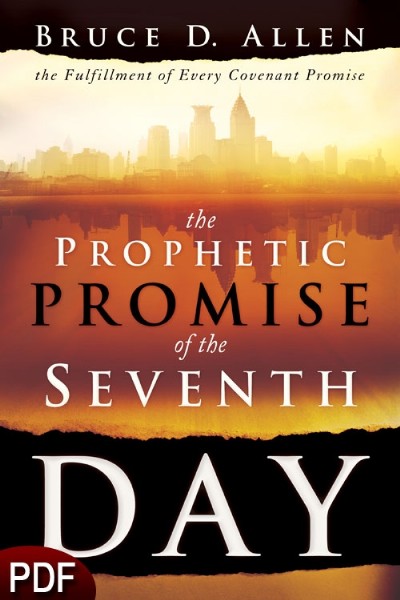 E-Book-PDF Download
By Bruce D. Allen
Price: $15.99
Sale! $10.99

Print Friendly
Jesus Physically Died and was Physically Raised
Jesus took our place in death and brought us out of death into his resurrection life.
There are many exciting life giving scriptures, which support the wonderful news of a present tense available eternal life to all who will believe. (II Corinthians 5:21) (Romans 6th chapter) (I Corinthians 15th chapter)
Hear the Words of Jesus and Believe God - Pass from Death into Life
The following verse says that simply by faith in the word of God we have eternal life and are not under the judgment of God but we have passed from death unto life. Praise God Forevermore!
Truly, truly, I (Jesus) say to you, he who hears my word, and believes Him who sent me, has eternal life, and does not come into judgment, but has passed out of death into life. John 5:24 NASU
Jesus has Power over Death…Giving Eternal Life
I love the way Jesus described eternal life in the following two verses from the 17th chapter of the Gospel of John.
He first notes that God his Father has given him power over all flesh (death) opening the door to give eternal life.
Jesus next says to our Father, "This is eternal life, that they may know You, the only true God, and Jesus Christ whom You have sent."
Even as You gave him (Jesus) authority over all flesh, that to all whom You have given Him, He may give eternal life (power over death). This is eternal life, that they may know You, the only true God, and Jesus Christ whom You have sent. John 17:2-3 NASU
Who is Eternal Life?
Remember that to know God and His son Jesus Christ is eternal life. Eternity is not a time frame but rather the divine nature of God and His son.
Eternal life is the complete person of God; God having an always existing nature. Jesus, Son of God is the express image of our eternal God. We too are created to be the express image of our Elohim creator. We have eternal life!
God's Testimony Concerning His Eternal Son
If we receive the testimony of men (spirit, blood and water), the testimony of God is greater; for the testimony of God is this, that He has testified concerning His Son. The one who believes in the Son of God has the testimony (of truth) in himself; the one who does not believe God has made Him a liar, because he has not believed (unbelief is a lie) in the testimony that God has given concerning His Son. I John 5:9-10 NASU
Get Ready! Here is God's Testimony
And the testimony is this that God has given us eternal life, and this life is in His Son. He who has the Son has the life; he who does not have the Son of God does not have the life. I John 5:11-12 NASU
This Is Written That You May Know
These things I (Apostle John) have written to you who believe in the name of the Son of God, so that you may know that you have eternal life. I John 5:13 NASU
Confidence in Eternal Life Ensures Life Giving Answers to Prayer
This (knowledge of eternal life) is the confidence, which we have before Him, that, if we ask anything according to His will, He hears us. And if we know that He hears us in whatever we ask, we know that we have the requests, which we have asked from Him. I John 5:14-15 NASU
These verses imply that a revelation of present tense eternal life gives believers the confidence to know that God's will is always centered on His love for life and His desire to give life.
A prayer request permeated with love and confidence (Hebrews 10:35) in the present life eternal will get the request fulfilled.
What is Truth? What is a Lie?
God has deemed believers worthy of eternal life (Acts 13:46). This is truth. Everything outside the eternal nature of God is a lie. Remember that God is truth. Therefore any and everything that doesn't reflect the eternal life of God doesn't exist. A lie has its own evil life only if we believe (act on) the lie.
Abiding (taking up residence) in the word of God will cause us to know truth and truth sets us totally free from the lies of the devil.
Example; Profound Revelation of Truth
Jesus took all sin, sickness, maladies, etc. (Matthew 8:16) therefore these evils no longer exist. If Jesus took all of these evil lies then we are only left with truth. Not knowing the profound truth that we have eternal life opens the door to a continuous onslaught of tormenting condemning lies.
When credence is given to lies then death comes. Life and death are continuously placed before us…we must choose life! (Deut. 30:19)
A lie by definition is a word declaring the existence of something that actually does not exist. For example if we hear in our mind that we are sick or dying then a declaration of our eternal life nature will nullify this lie.
We must know that in the eternal life of God and His son Jesus the Christ there is no sickness or death. Bind up the thoughts and continuously cast the lies into the pits of hell (II Corinthians 10:3-6).
Charge
We have and know eternal life (John 17:3).
Everything in the universe must be assessed in and by the revelation of eternal life.
Know that everything adverse to eternal life is a lie and does not exist; therefore do not bow to the lies of the devil. (Luke 10:19) (James 4:7) (II Corinthians 10:3-6)
In Him (God of life) we live, move and have our being (Acts 17:28).
God is our eternal life, we move in His eternal life and be (we are to generate) life as does God.
Death has been swallowed up in victory! (I Corinthians 15:54) (Isaiah 25:8)
Our greatest weapon of warfare against lies leading to death is a heart revelation that we are now truthfully living in ETERNAL LIFE.
Gale Maiden