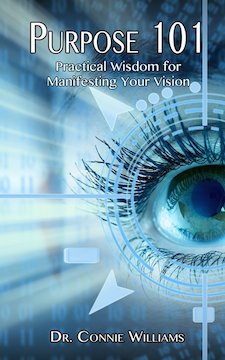 Book
By Dr. Connie Williams
Price: $13.95
Sale! $12.95

Print Friendly
Other versions are a bit more descriptive. Vision is referred to as "prophetic vision, revelation, divine guidance and redemptive revelation of God." The Message Bible reads, "If people can't see what God is doing, they stumble all over themselves; But when they attend to what he reveals, they are most blessed."
Regardless of who we are, we need vision. Vision is an insight into what God is saying and doing now that includes our involvement. Our lives aren't static. They are dynamic! Vision is also dynamic. If we engage with vision, it will build us and enlarge our horizons. It will govern our path and stabilize our journey. And there's a lot more!
Jesus Walked with a Vision
Vision is an expanding understanding that enables us to interact with God's redemptive purposes. When there is no focus on the overall objective, failure is sure to set in. Whether it's a family, business, ministry or a government, it makes no difference. They must all have vision. Without vision, there is a wandering away from the direction and foundations that protect us.
Vision is designed to become reality. It's vital that each of us as an individual is embracing vision from God.
I encourage you to be laser focused and not wander in your walk with Christ. Jesus walked with a vision from God that encapsulated His purpose and the outworking of it. You are part of that vision. If he needed it, so do you and I.
Inspiring Insight,
Bret "Maverick" Wade