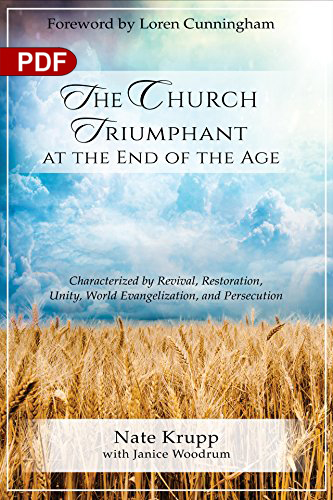 Ebook PDF Download
By Nate Krupp
Price: $17.99
Local churches have many good qualities and purpose, some people just love them while others have come to see some faults and reject them. I have met a lot of Christians who take great pride in going to church and even being a member. Many of them attack other believers for not attending a church service on a regular basis. They are very zealous for the church and discount the many blows some have received from local churches. I have also met a lot of lone rangers as church folk like to call them. These are people that have been burned by the local assembly of believers, brothers and sisters who don't take much stock in organized religion anymore. I have even been a lone ranger myself at times as well as a pastor of denominational church so I can really see where everyone is coming from.
One of the things you hear the most is the Bible says it's sin to not go to a church and that you cant grow if you don't go to church. But is that true? Is it a sin to not attend a local church and do you really stop growing as a Christian once you stop going? Once someone becomes a Christian or believer in Christ they naturally get pointed to a church. I can honestly say without the church I wouldn't be the Christian I am today. I can see how the church played a role in my faith and growth. I have also come to see times when it actually almost ruined my faith. Times when Christians were meaner than people in the world had been to me. I have seen some really bad leaders, ones who no one should submit to or follow running a church. I can say that I don't think it would be a sin for someone to leave their church if they had leaders like that. Some do leave but can't seem to find a good church so they quit going altogether only to get condemned by church goers. Is it legitimate to say you can't find a good church within driving distance? I would say yes. In Christ's day there were no good churches but His. So yes, it is possible to not be able to find a good church in your area. But does that mean you will never find one or to give up forever? I think it really depends on where you're at in your walk with God. God can let things happen in a church to draw you out and then when it is the right timing God can draw you back in again.
The bible does mention in one place not to forsake the assembling of yourselves together. That is the only real verse people use to say you have to go to church. Take into account that at that time there wasn't all the resources we have today to hear the word, fellowship online or serve from your home. Times have changed. Am I saying that we don't need to go to church? No, I think the church has its place and purpose but there may be times when for whatever reason it is a season for you to not be part of the local assembly. And that brings up another thing. So many church goers say that a legitimate church is only in a designated church commercial building and incorporated as a 501c3. They discount that you can fill the "not forsake the assembling of yourselves together" by just doing a simple Bible study in your home or prayer meeting with a few Christian friends. It doesn't have to be in a churchy building with a legitimate seminary graduated pastor.
Fellowship
Fellowship is fellowship whether a few people in a house or in a church building. Yes, there are passages that say you need the body of Christ which is others but that can actually look like many things now days. So you really can't say someone is in sin for not going to church. But can you really grow outside the church?
The Bible says in 1 Cor 3:5-7, I planted the seed, Apollos watered it, but God made it grow. So neither he who plants nor he who waters is anything, but only God, who makes things grow. NIV
It says God made it grow, not the church. In another passage it says this…
Mark 4:8 Still other seed fell on good soil. It came up, grew and produced a crop, multiplying thirty, sixty, or even a hundred times. NIV
Yes, good soil is needed for growth. And we know from scripture that good soil is a heart issue. God makes things grow and we can be sure that if God has begun a work in your life, He will complete it and cause you to grow whether in a church or not.
The Bible says in Phil 1:6, Being confident of this, that he who began a good work in you will carry it on to completion until the day of Christ Jesus. NIV
The Bible also says in Eph 4:11-13, It was he who gave some to be apostles, some to be prophets, some to be evangelists, and some to be pastors and teachers, to prepare God's people for works of service, so that the body of Christ may be built up until we all reach unity in the faith and in the knowledge of the Son of God and become mature, attaining to the whole measure of the fullness of Christ. NIV
According to scripture we do need leaders to mature and be built up, but we can gain from these leaders today from our TVs or internet. We don't have to go to a church to be built up or hear the word.
There were times when I went to church and was on fire for church then times when I left the church and took on some hurts from those in it. I can tell you I still grew outside the church. I grew a lot as a matter of fact. I never thought I would go back to a church or find a good church then years later God drew me back into one I had visited before but didn't think was good. Suddenly it was great and I fell in love with it. Everything started to work out and I made a lot of friends. You go through times when God may let you be drawn out of something in one season but in the next you will be drawn back to it. What changed? My season did. In the new season God was going to use the church again while in the last the church was not doing me any good. God will use something, then not use it, only to use it again later. You may or may not be in a church right now. Maybe you're on fire for the church and cant get enough or maybe you have been hurt and hate it. I would not say that either one of those things makes you anymore of Christian or any less of one or in sin. Like I said before that just may be the season you're in which can change. God is in charge of you growing not the church. God will carry you along to the end, trust in Him and don't be so quick to judge others.
Adam Becker

Print Friendly