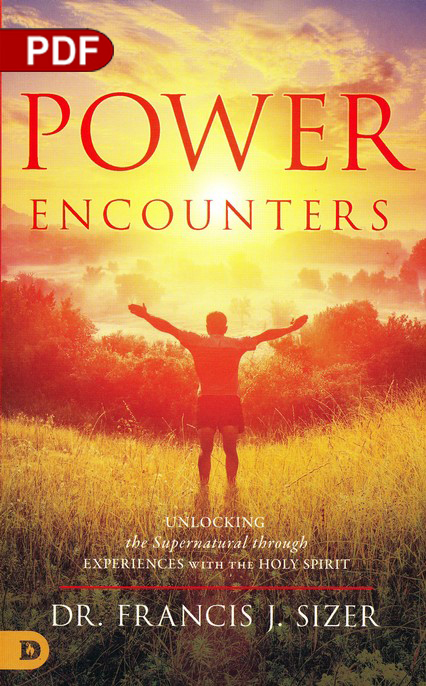 Power Encounters
Ebook PDF Download
By Dr. Francis J. Sizer
Price: $15.99
I hear the Spirit of the Lord saying, "You are coming into a season where suddenly you will see the manifestations of all that you have been praying for. It will be one breakthrough after another. There is a grace present to overcome the delays that you have experienced over the last six months."
I see a green light in the Spirit. God says, "GO! There is a grace flowing to hear the 'Go' of the Gospel and advance the Kingdom of Heaven. Be the one who chooses to manifest my Kingdom and release My glory in the earth. I will use you mightily and release My power in and through you. I am releasing My power for you. You will experience the power of God and it will give you the strength to manifest it in your emotions, your finances, your Kingdom assignment, and in your family."
I am releasing My power in your emotions. You will have the strength to quit looking backward and move on from the disappointments of yesterday. My power is healing you of all trauma. I am delivering you from soulish ties. I am blocking the wrong connections because I am protecting you. What I long to do in and through you is precious and holy. I am freeing you from the control of others. I am severing the ties to your past and I will grant you the new beginning that you have asked me to. Even within a year I will provide for you so that you can move into your place of divine destiny. It will be a new place. For I am making all things new!
I am about to show you the power of My Spirit through the wealth and riches that will pass through your hands. I will release Kingdom finances in this season. I am revealing Kingdom principles and connecting you to those who will help you build your dream and launch you into the deep places of My Spirit where I have called you. I am calling you out into the deep. I am calling you out in the unknown. I am calling you away from the shallow shorelines and into the currents of My Spirit where I place you in your place of purpose. Pursue Me with all your heart and you will find Me in all My glory and splendor. You will have more than enough. No matter where you find yourself, I will always get money to you says the Lord. Trust My leading and sow when I ask you to sow. Even when you don't have enough, I have provided a seed for you to release the rest. The greatest currency of Heaven isn't money. It is faith.
Love is the Only Way
I am speaking through My Prophets in this hour concerning your Kingdom Assignment. It's a season of divine alignment. Seek out prophetic voices in this season concerning your Kingdom Assignment. I am revealing visions and secret things to them about you. Write down what you hear. Make the vision plain. As you spend time in My presence I will give you creative strategies to launch out in the deep. It's a season where I am teaching My church about honor. For it is honor that sustains the glory. Without honor, you will not access the secret things I am revealing to My prophets says the Lord.
The greatest demonstration of My Kingdom is family. It is the model I have chosen to demonstrate My power and greatness in the earth. Without a deep understanding and revelation of what family is, you will not be relevant to what I am longing to do in this generation. I am restoring families. I am healing broken marriages. I am releasing the Spirit of Elijah and it will turn the hearts of the fathers to their children and their children's heart to their fathers. I am softening hardened hearts. I am opening up the communication lines. I am speaking through dreams and visions and reuniting lost loved ones. I am bringing entire families into the Kingdom of God.
I will demonstrate My power through love. For love is the only way. Love is My power. Love is the call I have given you. Open your hearts and love. Love with passionate. Love hard. Love without reservation. Love like I have loved you and chosen you and called you by name says the Spirit of the Lord."
Rene Picota

Print Friendly