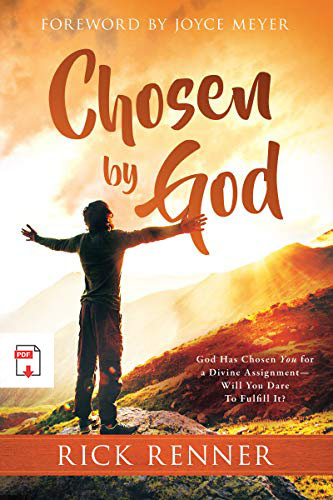 PDF Download
By Rick Renner
Price: $12.99
God gives us all the spiritual knowledge we seek after, but He also gives us His knowledge concerning all matters. We mature in the knowledge of God first and foremost by reading and studying His Word. We also develop in the knowledge of God through our own individual adventures with Him. The knowledge of God is vital to our sanctification and transformation.
Jesus established His essentialness to the Believer: You shall know the Truth (the living person of Jesus Christ; the logos and rhema Word of God that produces the image of God; the foundation of creation; the One who brings us into the center of God's purpose), and the Truth shall set you free (John 8:32).
Truth is not a fact of something we see, a statement or an insight. Truth is the divine person of Christ.
There is a natural course of happenings that occur as a result of pursuing and attaining the knowledge of God. We first gain an inner understanding of the presence of God that is dwelling inside our being. We then learn how to effectively contemplate the existence of eternal, spiritual things. By gaining the knowledge that God's Word produces, a firm foundation upon which we can build a new life, we are able to structure the principles and precepts of God within our being. After we have established the reality of God's presence dwelling within us as a life-changing force, we take on His image and likeness. Thus, by internalizing our knowledge of God, we can display His power externally.
We are given an example of an internal principal of truth when Jesus boldly stated, I know who I AM. If I say, "I didn't know Him (the Father)" I would be a liar. Yet you have not known Him, but I know Him. And if I say, "I do not know Him," I shall be a liar like you; but I do know Him (the Father) and keep His Word (John 8:55).
Do you know God as depicted in the above verse? Have you experienced His love, saving grace, mercy and healing salvation? And we know that the Son of God has come and has given us an understanding, that we may know Him who is true; and we are in Him who is true, in His Son Jesus Christ. This is the true God and eternal life (1 John 5:20).This is the core of the knowledge of God.
Who am I in Christ?
Have you ever asked yourself, "Who am I really in Christ?"
To discover our true identity, it is necessary to move away from focusing our attention on our own knowledge of our personality or temperament and direct our attention to the characteristics of Jesus. By relying on Christ and His attributes, we can emerge in a new way in order to manifest a changed identity that is centered in the essence of Christ who is within us. I, wisdom, dwell with prudence, and find out knowledge and discretion (Proverbs 8:12).
The level of our spiritual hunger (for the knowledge of God) determines the degree to which we discover the personal knowledge of ourselves, our callings, abilities and core purposes. All of these attributes are meant to function harmoniously to fulfill the destiny for which we were born. Our personal, individual desires drive us to seek, know and understand God in order to discover our true selves. Wisdom and knowledge are granted to you; and I will give you riches and wealth and honor, such as none of the kings have had who were before you, nor shall any after you have the like (2 Chronicles 1:12). God's resident wisdom dwelling within His righteous Believers will draw the kings of this world to the light of our rising.
Do you fully comprehend that the expansive, limitless Kingdom of God resides within you?
The knowledge of God travels outward from within the inner space of our being to manifest and to fill in the vast spaces of our world. Packaged with the infinite Kingdom of God comes the responsibility of exercising and managing its immeasurable power prudently. Carelessness kills; complacency murders. The tongue of the wise uses knowledge rightly; the lips of the wise generously disperse knowledge. But God gives us wisdom and knowledge as we come and go among the people of the world, so that we can govern well.
The knowledge of God working in our lives empowers us to take dominion, to rule and to rein in our outer world through His righteousness. The measure of the truth of God we possess and understand determines our ability to properly utilize the power of God. To overcome the weakness of sin and death and to conquer the world, we must first know the person and power of Christ who is living within us. The eyes of the Lord preserve knowledge, but He overthrows the words of the faithless (Proverbs 22:12).
The God of heaven is to be greatly esteemed. There is both an objective (outside) heaven and a subjective (internal) heaven. We are surrounded by heaven and such a great cloud of spiritual witnesses.
Be Diligent
God keeps our days secure and stable with His gifts of wisdom, salvation and surplus of knowledge. Therefore, we must let go of every wound and the sin into which we can so easily fall. When we cast off these impediments, we are competent to run life's marathon with passion and determination, for the path has already been set before us. Let us throw off everything that hinders and the sin that so easily entangles. And let us run with perseverance the race marked out for us (Hebrews 12:1).
Be diligent to collect God's counsel, and guard it with your life. Tune your ears to Wisdom; for her glory is better than great wealth. Make spiritual insight your priority, and its virtue will keep a watchful eye out for you. Set your heart on gaining understanding of the fear of the Lord. Knowledge is a pleasant companion who is guarded by God. It takes wisdom to build a mansion and understanding to set a house on a firm spiritual foundation. It takes knowledge to furnish our lives with the beauty of holiness. Wisdom is a good friend and common sense keeps us from danger. The wise accumulate the true treasures of knowledge; their perceptive words flow from them like a clear spring of water.
Believers need to not only seek the knowledge of God, but it is a necessity to also ponder, pray about and properly steward the knowledge that God reveals to us during prayerful dialogues, meditations upon the Word and in the dream visions of the night season. You could begin with a simple declaration like, "Lord Jesus, teach me Your ways, so that I can be rooted and grounded in Your love."
The book of Psalms is peppered with brilliant affirmations to pray and meditate on. Psalm 119:66 offers an excellent example: Teach me good judgment and knowledge, for I believe Your commandments. The Greek word knowledge in this verse is gnosis, which means the type of intimate knowledge that is discovered through sexual love between a husband and wife.
As the Bible specifies, Adam knew his wife Eve intimately, to know, yada, sexually. Because we were made in His image, we can become intimate with the love of God and act just like Him. Marriage was designed by God to mirror and set an example of the intimate relationship He designed to have with us. Because they know one another so well, those in marriage covenant often take on the same attributes and mannerisms of their partner. With God, virtuous attributes are the only possible ones to mirror. Unfortunately, this is not so with people. We are also subjected to becoming intimate with the hateful influences of darkness even without being aware at times.
Judged By the Same Measure
Jesus warned of this possibility and its consequences when He corrected James and John. He directed these sons of thunder that they must not know, discern, recognize or be aware of what kind of evil, destructive power they were both coming under the influence of. How often is this true about each of us when we wish someone harm or respond to someone in a hurtful, critical, angry or judgmental, negative manner? We will be judged by the same measure of hostile criticism that we spew toward others.
When negative thoughts and impressions are sent out toward others and received by them, we have placed them in bondage to our odious opinions. However, if they refuse to receive or they rebuke the vain imaginations we have projected on them, those very same, harmful impressions will return to us. The very same judgments and curses we imposed on them will, in turn, bind and afflict us.
We know God with our heart by communing with Him in the realm of Spirit and Truth.Ecclesiastes 1:16 demonstrates this reality: I communed with my heart, saying, "Look, I have attained greatness, and have gained more wisdom than all who were before me in Jerusalem. My heart has understood great wisdom and knowledge."
Prayer and the dreams of the night carry us into the spiritual zones where access to the internal knowledge of who we are destined to become is granted. Day unto day utters speech, and night unto night reveals knowledge (Psalm 19:2). Let the visionary dreams of the night plan your days. Always embrace what your imagination determines is possible; excitement will explode in your life.
I ask God on a regular basis to commune with me while I sleep, and I strive to write down what I remember as soon as I wake. If we do not give attention to record, to interpret and fully understand the messages of our dreams and the answers to our prayers, we will woefully miss the opportunity God offers us to discover who and where we are presently.
Without understanding our dreams, we can never become who we are destined to become in the future. Likewise, without the correct interpretation of our dreams, we may not obtain the full potential reserved for us, our destiny. The accurate understanding of our dreams helps us to properly see and know ourselves, so that we may reach the full span of our prospective purpose.
If you are confused about or find yourself losing sight of what is important in life, permit your sanctified imagination to take the lead. The sanctified imagination will always bring matters back into an accurate perspective. To manifest anything you desire in life, simply dream and imagine it is there. When you awake, it is so!
Because we are created in God's likeness and image, we can tap into the reality of God's conscious, imaginative energy to encounter all the diverse dimensions of His creative, healing light that is found in Christ's divine power, wisdom and presence. God's powerful presence enlightens us. In His ever-increasing light, we receive and shine with His profound wisdom.
Follow the Leading of the Holy Spirit
We behold the imaginative dreams and visions of God that give us the understanding of how to produce inventive ideas. If we follow the Holy Spirit's lead, we will find His abundant shower of prosperity. The visionary images we receive from God produce a symbolic awareness in us. When we are aware of something's existence, we are able to focus on understanding what it means and how to use and develop it until we can give it birth in the fullness of time.
As we learned, the conscious and the subconscious (imagination) interact interchangeably. Therefore, if a fact can produce a state of thought, it should also be possible for a thought to produce a physical fact or place. Whatsoever things you desire, when you pray see them as an imagined reality, believing that you have already received them, and you will receive it as an answer to prayer (Mark 11:24).
When we imagine something, we birth the seed of an idea. When we give that idea expression, we cause it to manifest in our mind's eye. The awareness of knowledge grows into maturity through understanding responsibility and gaining wisdom by experience. As long as they are joined to faith-filled actions, we are able to create anything through our God-given imaginations, dreams, visions, inspired thoughts, prayerful words, prophecies and decrees.
Imagination, A Place
Where You provide the thoughts
And inspired words flow
From this Spirited Pen,
Painting word pictures, supreme,
Seen as personal, individual, images
Through anointed eyes of the reader.
Keat Wade 05/15/19 (10 Iyar 5779)
As a born-again Believer, you have the limitless knowledge of God already residing inside of you. God Almighty loves to impart His knowledge to you, so that you may have His knowledge on all things or about any matter in your life. God desires for you to know and discern what He's doing and why He's doing it.
Personal Reflection Moment
Do you actively seek the knowledge of God? Not just spiritual knowledge or the knowledge about Him?
Do you allow Holy Spirit the time to communicate His knowledge to you regarding personal and life matters? Or do you often pray about matters then proceed with your knowledge in hand?
The greatest power in the universe is love.
Dr. Barbie L. Breathitt

Print Friendly