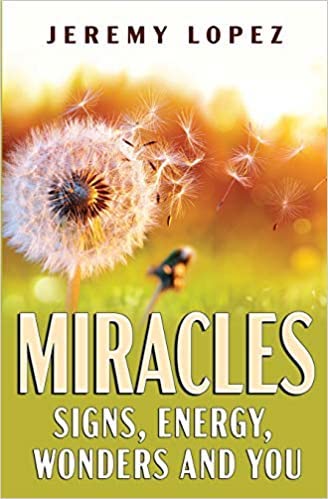 By Jeremy Lopez
Available as a book or ebook.
"And these signs shall follow them that believe°" (Mark 16:17 KJV)
"Miracles." "Signs." "Wonders." I want to see even more, and I refuse to settle for anything less. Today, even after all these years within prophetic ministry, I find myself just as hungry for the supernatural as ever before. There would be no Identity Network without the supernatural. It's the basis of all that we do. Personally, I choose to believe that life within the Kingdom of Heaven is, by definition, naturally supernatural.
But what does it mean to truly live out a miraculous life? What do those miracles, signs, and wonders truly look like? I'm so pleased to announce the worldwide release of my newest book,
MIRACLES: Signs, Energy, Wonders and You
, now available through Identity Network. Although I'm partial to the book, I have to admit that in many ways it's a testament to the miracles, signs, and wonders that have been such a part of this ministry throughout the years. I'm truly so honored to do what I do. If you have a passion to experience the realm of Heaven here on earth in a new way, as never before, and if you long to truly encounter the realms of the miraculous in all areas of your life,
MIRACLES: Signs, Energy, Wonders and You
is a book that will serve as a clarion call of activation – activating the true miracle working power of the Presence within your life, your home, your work, and your ministry.
Are you tired of talking about miracles, but never really seeing them? Do you grow weary of hearing religion always look to the past and to the miracles of old, claiming that those miracles still happen, all while never experiencing any of them? I was. I did. And I realized that something needed to change. It's not enough to simply believe in miracles; when awakening comes and when Christ renews the inner man, we no longer are afforded the luxury of being satisfied with talking about the miracles that happened in the Book of Acts or in the great healing revivals of the past. No. Instead, we become impassioned to bring the miraculous into our very own lives.
In
MIRACLES: Signs, Energy, Wonders and You
, I share what I believe to be powerful, prophetic insight into what it truly means to "believe." As Jesus commissioned those disciples that day and told them of the power that was to soon come upon them, he offered to them a very real promise: "Signs shall follow." You've heard it preached, time and again. But just what do they follow after, exactly? In
MIRACLES: Signs, Energy, Wonders and You
, I share powerful principles to help you unlock the power of "belief" again.
Do You Still Believe in Miracles?
You see, my friend, somewhere along the way, we actually stopped believing in miracles. Sure, we like to claim that we believe. We even build sermons, teachings, and entire conferences around the topic of miracles. We love talking about miracles. But we rarely, if ever, see them. Why? Because maybe we don't really believe as much as we like to claim. If, as Jesus said, signs follow after beliefs, then the issue has never been a lack of signs; the issue has always been a lack of belief.
Then again, maybe we've looked to the wrong things all along. Maybe as much as we've believed, we've believed in all the wrong things. Wouldn't that change everything? We're always looking to the past, aren't we? To the Book of Acts. To the great revivals and seasons of outpouring throughout history – when God just seemed to miraculously "show up." My friend, it's time to begin to bring the miraculous into your own life, in the very present moment of "Now!"
What if I were to tell you that God doesn't want another Toronto Outpouring? Would you find the claim shocking? What if I said that the Holy Spirit isn't interested in bringing about another Brownsville? Or another Lakeland? It sounds shocking, doesn't it. Well, it's true! You see, God's not interested in giving us more and more of the same old same old. No. It's time to realize that a new thing is upon us and that newness of life happens each and every moment we choose t believe all over again.
In
MIRACLES: Signs, Energy, Wonders and You
, I help you tackle those limiting, stagnant beliefs that are keeping you from truly experiencing the "more" of God that you've always claimed to believe in. If we truly believe, don't you think it's about time we actually begin to see? As I've said for years, you will be given exactly what you believe in. In fact, it's a Universal Law within Creation. Our beliefs are always, always manifesting something all throughout our lives. Your life, in fact, is the direct result of what you've chosen to believe in. Well, that's what Jesus said, at least.
It's time to rethink the topic of miracles. It's time to rethink the signs and the wonders that we've always been told about. It's time to stop thinking of miracles in terms of strange, bizarre, otherworldly things that take place in third world countries on mission fields or at prophetic conferences but nowhere else. It's time to make the miraculous personal again.
The same power that raised the dead is the same power that you possess to begin the new business you've always dreamed of. The same power that raised Lazarus is the same power that inspire the single mother to provide for her three year old daughters. And it's the exact same power that inspires us and drives us onward to lay hold to a more rich and abundant life. It's time to bring the miraculous into every area of our lives again – by making it more practical. It's time to become unstock in the limiting religious lies that we've held to for so long.
If we're given exactly what we believe in, just like Jesus said, then don't you think it's time we truly open our eyes and begin to ask, "What am I seeing?" My friend, if the life that you now see and experience seems to be a far cry from the miraculous life you've always read about and heard about, it's not time to stop believing in miracles; it's time to examine those limiting beliefs that keep you from experiencing them.
Jeremy Lopez

Print Friendly