The Word to Transform the Mind
by
Dr. Bill Hamon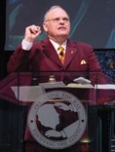 There has never been a more important time in history for the Body of Christ to walk as those supernaturally positioned to carry out the will of God on earth. Saints, the time has come for us to allow the power of the Holy Spirit and the Word to transform the mind. This means learning to walk by faith and not by sight. We will not see the supernatural manifested until we transform our minds. Bill Johnson, author of The Supernatural Power of a Transformed Mind, says:
One of the toughest lessons a Christian can learn is how to trust and praise God in the uncertain time between a promise and its fulfillment. I believe it is a powerful act of spiritual warfare to stand in the middle of death and disease, conflict and unresolved issues, and to cause your spirit to rise and give thanks to God. Our troubling circumstance may last days, months, or years, instead of just an hour or two, but our approach should be the same: we must declare the goodness and faithfulness of God even in the midst of our trial, before we have an answer.
Isaiah 60:18 says, 'But you shall call your walls Salvation, and your gates Praise.' In Revelation we see this gate called praise again and discover it is made out of one solid pearl (see Rev. 21:22). Think for a moment. How is a pearl formed? Through irritation and conflict. A granule of sand gets inside an oyster shell, and a pearl forms around the granule to keep it from doing harm. The Bible's pairing of praise with irritation is not coincidental. When we are stuck in conflict and uncertainty, and yet we praise Him without manipulation, it is a sacrifice. It means we are reacting in a way that produces something beautiful. In that moment a gate is formed, a place of entrance where the King of glory can invade our situation.
In my book, The Day of the Saints, I teach on the power of praise: Praise prepares a habitation for God to come to us, bless us, and minister through us. Saints desperately need the manifest presence of God that praise and worship of God produces. And praise is one of the greatest weapons of warfare found in the Bible. Psalms 4:5 tells us, 'Sing praise to the Lord, you saints of His, and give thanks at the remembrance of His holy name. For His anger is but for a moment, His favor is for life; weeping may endure for a night, but joy comes in the morning.' 삅♴䖋诼ᡈ燿(ၵSᱰ䶋儈懨?㯿࿃濾>
Remember the kindness of the Lord and let praise be your weapon against the lies of the enemy. I encourage you to praise His name in every situation you are faced with this month. Declare His goodness over you and your family and watch as His promises come to pass in your life!
Activating the miraculous,
Dr. Bill Hamon