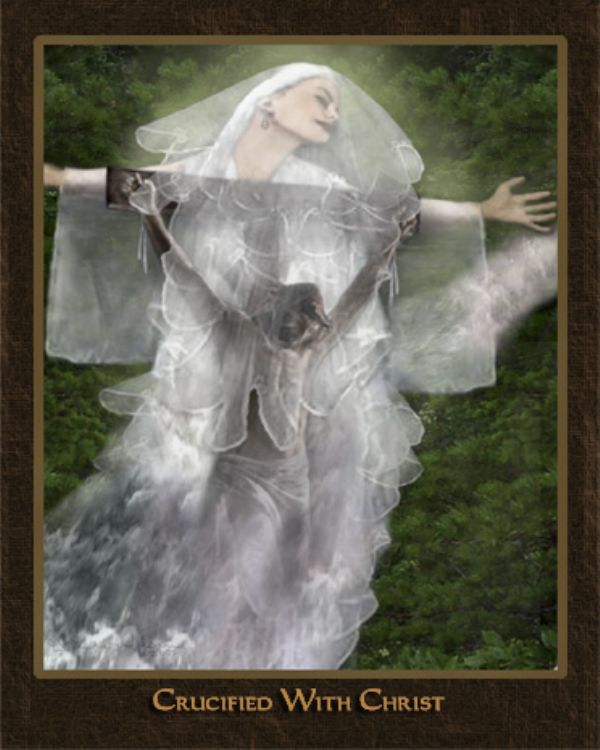 Crucified With Christ (Prophetic Art- 8.5 x 10.5) by Glenda Wilson
SKU#: PROD15438
Gal 2:20 -

"I am crucified with Christ: nevertheless I live; yet not I, but Christ liveth in me: and the life which I now live in the flesh I live by the faith of the Son of God, who loved me, and gave himself for me."

KJV
In this piece, the bride has yielded herself to Christ; here she is basking in the glory of God. She is crucified with Him; nevertheless, she lives. (see Gal 2:20) She has been raised with Christ to a new life sharing His resurrection from the dead – her new, real life is hidden in Christ with God. (read Col 3:1-4 AMP). She, with unveiled face, beholds Him as in a mirror. She is being transformed into the image of the Lord. She has made a divine exchange –her veil for His veil –instead of being separated from Him she has become separated unto Him. The veil then takes on the characteristics and symbolism of the bridal veil. It is symbolic of being spoken for. It is a mantle of purity, signifying that no one else has access to the secret places of her heart (read 2 Cor 3:16-18). The light has shown forth and she shall manifest the majesty and glory of God. (read 2 Cor 4:6).

---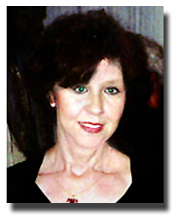 Glenda Wilson is a passionate student of scripture and has been a prophetic and revelational writer for a number of years. In 2001, she began a new journey …Renderings of the Heart ™ ...a collection of illustrations and writings inspired by dreams, revelation, life experiences, and observations. The most amazing thing about the art is that prior to September 11, she had never created a piece of art. She has had no formal training. He placed His Spirit on the artisans of old, and once again He is supernaturally empowering His people to accomplish His purposes.

Her art, writing, and speaking covers a broad spectrum; from healing the broken-hearted to releasing creativity and revelational gifts. At the heart of everything, is an agenda to teach people how to understand and maximize moments of visitation from the Lord.

The writings that accompany the pieces are as life-changing as the art. God beckons the viewer to go to that place of revelation that He has within each piece …there the Holy Spirit ministers it in a most personal way. In the privacy of their own home, God works through the art and writing to minister His purpose, which for many is something that is better experienced alone with God.
Product Details
Weight: 2 lbs.
Related Categories