CLEARANCE: Live from Hollywood (prophetic music CD) by Theresa Griffith
SKU#: PROD20659
Live From Hollywood
Prophetic Music CD

by Theresa Griffith
"Live from Hollywood". What you will find within this CD is not your normal concert event. Because of the nature of what takes place at these Prophetic Healing Encounters, even someone who was not there can receive layer upon layer of body, soul and spirit healing through it.
As Theresa begins to play, melodies weave in and around you, caressing your soul. Heavenly melodies rise to lift and rejuvenate your spirit. Tempos increase as hindrances are removed and destiny is enables. Staccato notes laugh with the promise of a bright future.
Most who attend go through multiple inner healings whether they are in the special seat or not because the Spirit is not limited to a chair. Most people say the experience was like sitting in over three hours of a prophetic healing stream that made it unnecessary to actually be in the chair.
---
THERESA GRIFFITH & HER MUSIC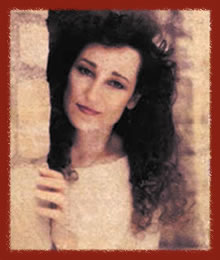 Theresa Griffith is a Prophetic Minstrel and Speaker with a specific calling in ministering body, soul and spirit healing through music, drama, dance and the spoken word. Her singing will escort you into the Holy of Holies as she soars in the Spirit with LIVE, spontaneous songs from the Lord. She ministers in a wide variety of contexts bringing comfort, healing and encouragement wherever it is needed around the world.
Of her flute playing Kent Henry once said, "Woman! You are an anointed minstrel of the Lord. Incredible! It sounds like you've been playing since you were in the womb!" Well, she hasn't quite been playing that long, but it will delight your heart as she worships our Beloved Bridegroom on the Celtic harp and ten different flutes, including a Gold Bass Flute, as well as several Native American Indian and Celtic Flutes.
Theresa Griffith's music has spanned the U.S. and over 50 different countries. Both CBS and NBC affiliates have done stories on her, not only because of the amazing success it has had, but also because of its wide range of popularity. With over 20 years experience in television, radio and live concert performances, it's easy to see why so many people are talking about the music of Theresa Griffith.
---
Product Details
Weight: 1.5 lbs.