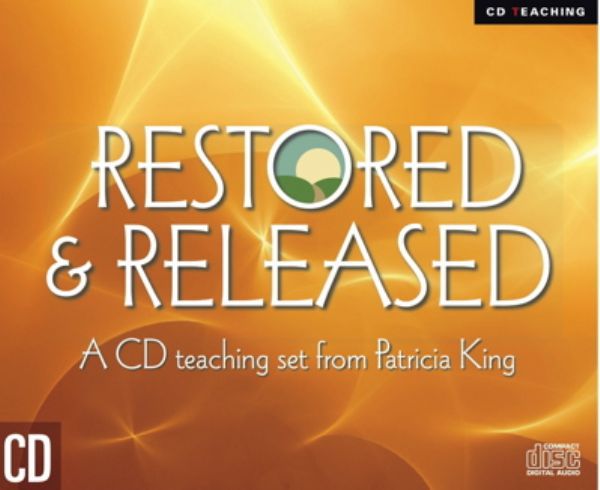 CLEARANCE SALE: Restored & Released (2 teaching CD set) by Patricia King
SKU#: PROD36683
Restored and Released
by Patricia King
No matter where you have been. No matter what you have been through. This is the time to step into the fullness of all God has always planned for you. In this hour, the Lord is healing wounds and removing limitations. He is empowering His church to once again believe big, and step into destiny. It is not time to shrink back. It is time to arise and shine. Get ready … you are about to be restored and released!
CD 1: Restored by Love
If you have ever lost hope, lost fire, or lost direction … every word of this message will breathe resurrection power into you and inspire you to step out and possess every promise you ever dared believe for! These words are a healing balm. They will restore you, breathing life into any area of your life that has known disappointment, rejection, hurt, or mistreatment. Listen, and be inspired to step back out onto the awesome path of destiny the Lord has always intended for you.
CD 2: God is in Charge of Your Future
God is raising up many, and putting them in position to express the authority and power of His Kingdom. This includes you! The season of closed doors is over. The season of holding patterns is done. As you listen to this message, you will feel the shift. Get ready to roar out into all you were created for. God's plans for you WILL come to pass, and you don't have to figure out how to make them happen. No one and no thing can stand in the way of your destiny. Because God IS in charge of your future, and he is making your way!
Product Details
Weight: 2 lbs.
Related Categories