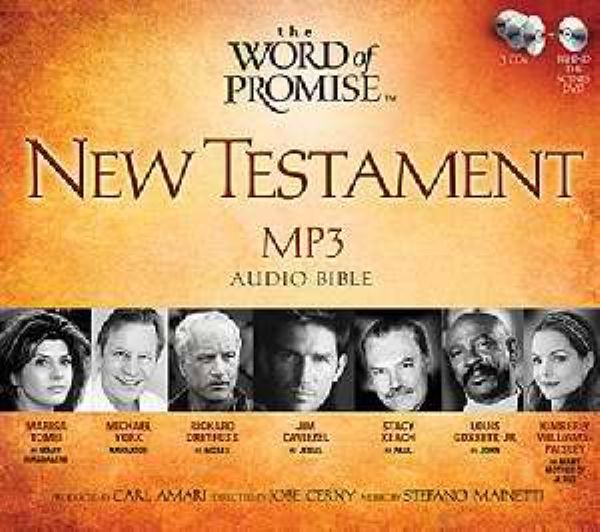 Word Of Promise NT Audio (3 MP3 Disc) NKJV by Nelson Bibles
SKU#: PROD44766
Word Of Promise New Testament Audio


(3 MP3 Disc) NKJV
by Nelson Bibles
Listen anywhere when you download "The Word of Promise(TM) New Testament" "Audio Bible" to your MP3 player.
Hear the Bible come alive! "The Word of Promise(TM) New Testament MP3 Audio Bible" is a star-studded audio Bible production, and this multi-voiced, scripted dramatization of the New King James Version (NKJV) is presented in a compelling, dramatic audio theater format. Complete with an original music score by prolific Italian composer Stefano Mainetti and movie quality sound effects, the Bible comes to life for a new generation. Set includes three MP3 CDs and a behind-the-scenes DVD.
Cast includes:
Jim Cavieze

l ("The Passion of the Christ") - Jesus

Michael York

("Romeo & Juliet, Austin Powers") - Narrator

Academy Award winner Richard Dreyfuss

("Mr. Holland's Opus, The Goodbye Girl") - Quotes from Moses

Academy Award winner Marisa Tomei

("My Cousin Vinny") - Mary Magdalene

Golden Globe winner Stacy Keach

("Prison Break, Hemingway") - Paul

Academy Award and Golden Globe winner Louis Gossett, Jr.

("An Officer and a Gentleman, Roots") - John

Kimberly Williams-Paisley

("According to Jim, Father of the Bride") - Mary, Mother of Jesus
Contributor Bio: York, Michael
Michael York is Principal Lecturer, Sophia Centre for the Study of Cultural Astronomy and Astrology, and Director of the Bath Archive for Contemporary Religious Affairs, Bath Spa University College, UK.

Contributor Bio: Keach, Stacy
Stacy Keach a star of stage, film, and television, won a Golden Globe Award and an Emmy Nomination for his acclaimed portrayal of "Hemingway" in the definitive television epic. His films include "American History X, Escape from LA, Keep Your Distance, " and "Birds of Passage." Other television features include "Prison Break, " and "Titus." Mr. Keach read all three volumes of "The Short Stories of Ernest Hemingway" for Simon & Schuster Audio.
Product Details
Weight: 1.25 lbs.
Related Categories