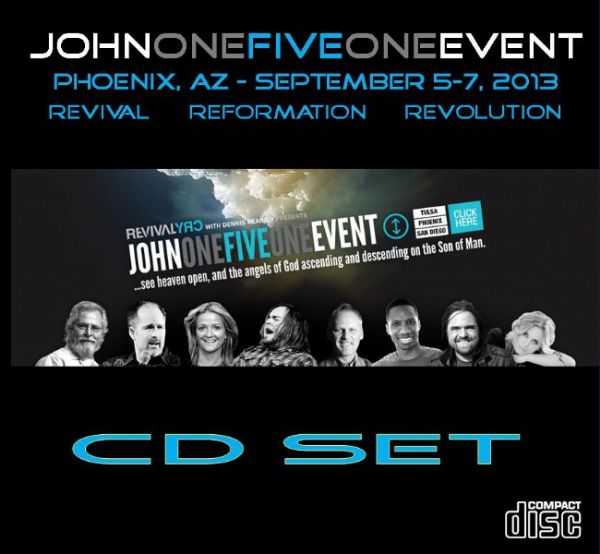 John One Five One Event (7 Teaching CD's) by Jason Upton, Dennie Reanier, Sean Smith and Stacey Campbell
SKU#: PROD47861
John One Five One Event
See Heaven Open and the Angels of God Ascending and Descending on the Son of Man
7 Teaching CD's


By Jason Upton, Dennie Reanier, Sean Smith and Stacey Campbell
This CD-Set will set believers free from religion based performance to receive a revelation of their identity and inheritance in Christ!

Special Guest Ministers: Jason Upton, Steve Swanson, Todd White, Michael Maiden, Dennis Reanier, Michael Maiden, and Resonance with Tammi Reanier.
In John 1:51 Jesus says, "You shall see the heavens open and the angels of God ascending and descending on the Son of Man." In other words, Jesus is "Open Heavens!" Where the angelic ministers and messengers of God are ascending and descending upon Him with revelation. Allowing every believer that already has Christ dwelling inside of them to know that everywhere they walk is an open heaven!
JOHNONEFIVEONE EVENTS are a 3 day supernatural encounter with God. They are currently being held in major cities throughout North America.
They create an environment for people to have an extreme encounter with Holy Spirit. So people leave wrecked for the ordinary and poised in their identity for the extraordinary. Advancing the Kingdom mission of a geographical region through partnership with the local body of Christ gone viral. So long after the three day event is over we continue converging together in unity to become relevant by meeting the supernatural needs of your community.
Hosted by Revival Cry Ministries with Dennis Reanier.
Product Details
Weight: 2 lbs.
Related Categories