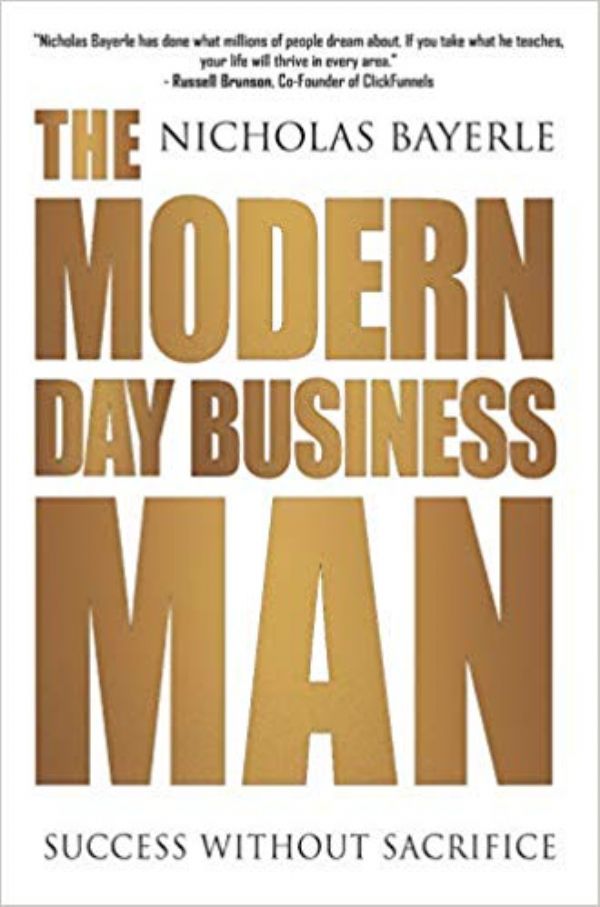 The Modern Day Business Man: Success without Sacrifice (Book) by Nicholas Bayeryle
SKU#: PROD70755
I Believe as a Man You Are Put on This Earth with a Huge Mission!
This book exists to help equip, motivate, and teach you how to get your unique message out in today's modern world.
The Modern Day Business Man is for the leaders of tomorrow who want success without sacrifice. It is for men who want to have it all – vibrant health, thriving relationships, and financial freedom – while upholding a standard of conduct and integrity that inspires everyone around them.
I went from being sixty pounds overweight, broke, and with zero influence…to creating a seven-figure business, building The Billion Dollar Brotherhood into a community thousands of men strong, and being named a Top 30 Under 30 Influencer – all by my twenty-sixth birthday.
After overcoming the agony of obesity, depression, poverty, and failing out of school, I made a decision to turn my life around. Now it is my mission to help men achieve success without sacrifice in their health, wealth and relationships.
Entrepreneurs have always been the catalysts for change in society, and now more than ever, they are role models too. This book is a deep dive into the timeless principles of entrepreneurship that I have learned after investing hundreds of thousands of dollars, interviewing some of the most successful people in the world, and having a Navy Seal for a mentor over the last decade.
The Modern Day Business Man will teach you how to:
Get honest with yourself and take ownership of your life, so that you can create the future you really want
Rapidly build real relationships with influential people who will accelerate your journey to success
Prioritize your health and fitness so you can crush it with peak levels of performance and mental clarity in business
Build a business and brand with your spouse that deepens your bonds of trust and brings you closer

Do you feel called to play at a bigger level? Are you ready to claim your destiny and live life at the highest level?
Then get ready to achieve success without sacrifice as a Modern Day Business Man!
About Nicholas Bayerle
Nicholas Bayerle is the CEO of Billion Dollar Body and Creator of the Billion Dollar Brotherhood. He's the host of the BDB podcast, an international speaker and author of the Modern Day Businessman. He went from obese, college dropout to fit, to creating a 7 figure business, healthy and married to the woman of his dreams Amanda. Nicholas was named a top 30 under 30 Influencer, has been featured in numerous media outlets such as Forbes and has interviewed some of the top entrepreneurs. He lives by the philosophy that your network is your net-worth. Nicholas resides in southern California and is passionate about his marriage, faith, family, friends and giving back to those he can help.
Product Details
Weight: 2 lbs.
Related Categories