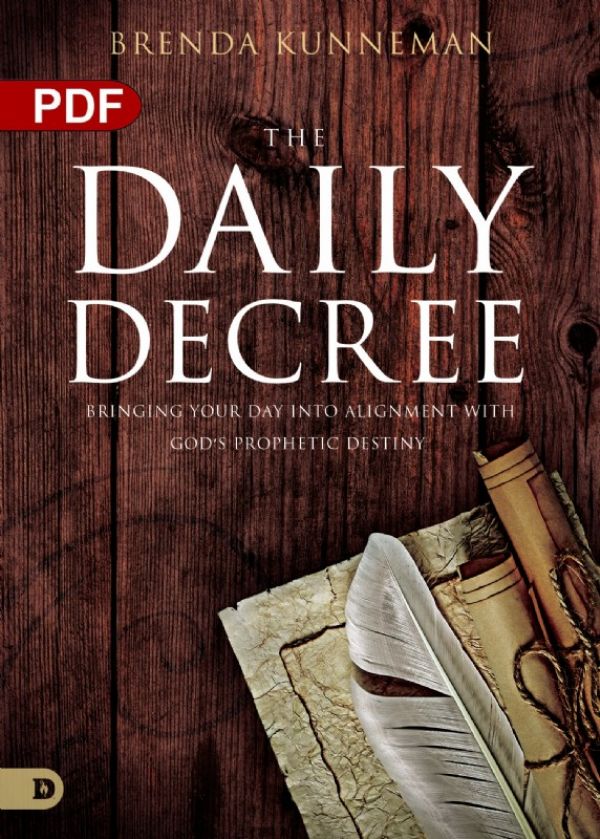 The Daily Decree: Bringing Your Day Into Alignment with God's Prophetic Destiny (PDF Download) by Brenda Kunneman
SKU#: PROD70858
This is a downloadable item. You will download a copy of this digital product directly to you computer. No items will be shipped to you. All sales are final. No refunds. Should you have any questions please email customerservice@identitynetwork.net or call 205-362-7133.
The purchaser is responsible for downloading and transferring the product to their computer or e-reading device.
All E-Books on Identity Network are in a PDF format. If you do not have Adobe Reader,
you may CLICK HERE to download a free copy.
Proclaim the words of the Lord!

There are words from Heaven that the King of kings wants you to decree! Like Jesus, believers must listen for the Father's voice and declare what He has spoken. When you boldly decree God's word, your words are saturated in the supernatural life and creative power of the Kingdom!

Respected prophetic voice Brenda Kunneman has compiled a series of powerful decrees that were birthed in the heart of God, shared with her, and now imparted to you. These legal decrees will empower you with tools to overcome impossibilities, position you for new levels of blessing, and prepare you for supernatural encounters.

In the Daily Decree, you will receive:
Confessions that release blessing: Decrees backed by Scripture that you can confess boldly!
Declarations that unlock breakthrough: Prophetic words that will help you overcome specific adversities of life.
Proclamations that unleash destiny: Points of agreement between you and God, that allow you to prophetically announce what He is saying about your life and future.
Declare the words of the King, and claim His promises today!
Product Details
Related Categories