Print Friendly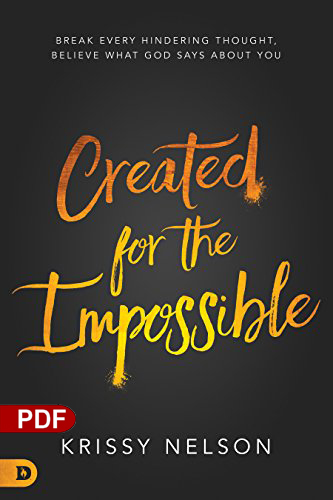 Ebook PDF Download
By Krissy Nelson
Price: $16.99
Sale! $9.99
"Do you see any truly competent workers? They will serve kings rather than working for ordinary people." (Proverbs 22:29, NLT)
"Observe people who are good at their work — skilled workers are always in demand and admired; they don't take a back seat to anyone." (Proverbs 22:29, The Message)
I believe that we are called, as followers of Christ, not to take a back seat to anyone but to rise to the top and "serve kings." You may not literally serve a king, but it gives the picture of someone who is of importance. Whether you work in business or ministry, or both, you also need people around you that can help you with your vision. You can't do it on your own. They may help you in different ways. They may work for you, they may provide you with counsel and wisdom, they may be someone who commits to praying for you and your success on a regular basis, they may provide financial backing to your business or ministry, there are many people called to do many different types of things to help you succeed.
This is twofold, you're called to help someone else be successful and there are those called to help you be successful, it's a cycle. It's important that we are always looking for the talent in others around us and help to pull that out of them. Many times, we can see things in others that they can't see, and others see things in us that we can't see. We must discover those skills and talents and encourage them to walk in them. Who knows, that person that seems insignificant may have something in them that leads them to becoming the CEO of your company or a Senior Leader in your ministry. Discover those things and begin to pull them out of them.
How do You do that?
You begin by giving them small tasks that will build their confidence. Something you know they can easily be successful at. As they begin to see what they are capable of, their confidence builds, as their confidence builds they become willing to take on more difficult tasks and take bigger risks. I know this because this is what has happened in my life in both business and ministry. On both ends I was given simple tasks that built my confidence and as that built I was given tasks that stretched me more. I would not have stepped into those stretching tasks early on because I did not have the confidence. Now, because of people pulling talent out of me, there's not much I won't tackle. I have the confidence that I can be successful. Why is that? Because people around me applied the scripture above and I believed in the scripture above for myself.
"Observe people who are good at their work — skilled workers are always in demand and admired; they don't take a back seat to anyone."
Purpose to discover talents in others and allow others to discover talents in you. You are not called to take a back seat but to always be in demand and admired.
Stephen Young