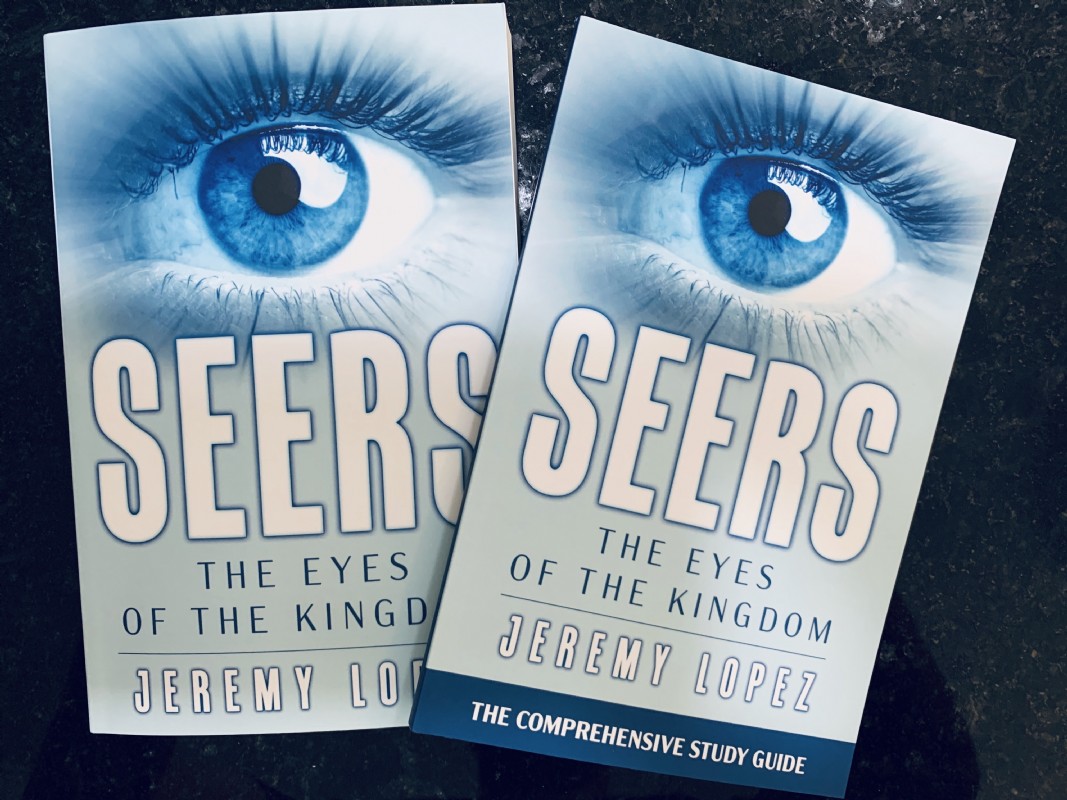 Seers
PDF Download
By Jeremy Lopez
Price: $25.99
Can you feel something stirring in the spiritual atmosphere? Big heavenly events are coming up!
September is almost here—the season of the Days of Awe. These are Rosh Hashanah (Jewish New Year celebration) through Yom Kippur (Day of Atonement) when God opens up the Books of Heaven and begins to reveal new assignments to you. It's a very exciting time!
The Lord's made it clear to me that we need fresh wisdom during this time. Here are a few ways you can step into the wisdom flowing from Heaven right now.
Remember, heavenly wisdom is kind.
A lot of us are still living with the idea that the Lord is an angry Father, waiting up in the clouds with lightning bolts. But that's not how God shows up for us.
But the wisdom that comes from heaven is first of all pure; then peace-loving, considerate, submissive, full of mercy and good fruit, impartial and sincere. James 3:17 NIV
The wisdom that comes from heaven is kind—not judgmental or harsh. If you need wisdom for how to handle a situation, this is good to keep in mind while you discern which direction to take!
Wisdom Prevents Future Failures.
We're all going to fail at some point in our lives. But if you listen to the wisdom spoken by others, you could prevent a lot of failure in the future!
Listen to advice and accept discipline, and at the end you will be counted among the wise. Proverbs 19:20 NIV
I think a lot of us have the impression that, in order to be wise, we need to have this never-ending flow of wisdom and revelation directly from Heaven. But there are already people who have wisdom. A lot of becoming wise is about listening to the wise people God has already put in your life!
Start with the Fear of the Lord.
To understand wisdom, you first have to position yourself correctly with the Lord.
The fear of the Lord is the beginning of wisdom; all who follow his precepts have good understanding. To him belongs eternal praise. Psalm 111:10 NIV
The fear of the Lord really means respect. As you're trying to discern what is wise, ask yourself which options reveal your respect for God. That should narrow down the playing field for you because the fear of the Lord is the beginning of all wisdom!
Wisdom is so important. But what good does it do to know the right thing and not do it?
Do not forsake wisdom, and she will protect you; love her, and she will watch over you. The beginning of wisdom is this: Get wisdom. Though it cost all you have, get understanding. Proverbs 4:6-7 NIV
We can pray for the gift of wisdom, but if we don't act on that wisdom, then we may find it harder to discern wisdom in the future! We have to keep choosing wisdom in order for Heaven's power to show up in our lives.
You can Grow in Wisdom Through Training!
Wisdom isn't just some intangible, spiritual thing. Wisdom can also be learned through training!
To these four young men God gave knowledge and understanding of all kinds of literature and learning. And Daniel could understand visions and dreams of all kinds. Daniel 1:17 NIV
All Scripture is God-breathed and is useful for teaching, rebuking, correcting and training in righteousness, so that the servant of God may be thoroughly equipped for every good work. 2 Timothy 3:16–17 NIV
Doug Addison

Print Friendly