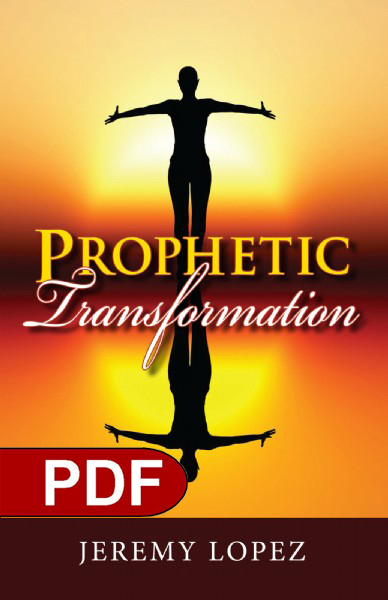 Ebook
By Jeremy Lopez
Price: $19.99
"Worship God! For the testimony of Jesus is the spirit of prophecy." Revelation 19:10b
So many are worried about "false prophecy." Let me share the whole verse, because it is important:
"And I fell at his feet to worship him. But he said to me, 'See that you do not do that! I am your fellow servant, and of your brethren who have the testimony of Jesus. Worship God! For the testimony of Jesus is the spirit of prophecy.'"
We don't worship man (or angels). We worship God! People who are overly concerned about "missing it" are in fear, worrying about how people will see THEM. They see themselves on the pedestal to be looked at or looked up to. THAT is why they are OFF! They are not worshiping God! They do not have a perfected spirit, but they can with time and effort!
If you have the Spirit of God, you walk in love for other people and even for yourself (but not in a selfish way). You don't want to wrong them or mislead them. And when people discern that, they forgive a lot.
Now some MISLEAD people with what we call greasy grace, the kind that can overlook everything and that will lead to falling off of the path of Life, like going over a cliff! It's serious.
They will promise you everything your heart can imagine and desire. A lot of that is just bait and currency for them to get what THEY want, and they will leave you behind, even in their fall. That is NOT love!
If ministers have served us and we see good in there, we will have compassion. But I don't think you can even SEE good if you are a legalist!
Jesus is the Truth. His Word is Truth, and His Word is alive and strong through the Holy Spirit. What a person cares about is what they will lift up, even if it is themself. Some care about themselves a lot because they have been injured and need healing. But after a while, you are expected to find the TOOLS you need in the Bible and with help from Godly friends, get over it and move on. The Holy Spirit Helper will HELP!
Now OF COURSE some of that is hard when the wounds are deep. But some purposefully cause wounds, or don't care how others take it, but some just want you to wake up to a more productive reality, just like making your kids get out of bed in the morning to eat breakfast and go to school. But Love is also THERE for that.
Full of Grace
A tree is known by its fruit, Jesus taught. Some things are easily seen, and some things take "discerning." The more mature you are, the more you can discern! (Even our brains develop over time, which is why we are gentle with young children.)
You may sense something and even be right, but the mature will take what they discern and wait on wisdom. (Some sadly just follow others or even steal from others to make themselves look good.) You can ask God for maturity and He will give it!
God CAN overcome evil with good. When people learn to TRUST good, whose spirit is from God, they can end up using those energies the right way. It has great results! But some are deceivers and sell outs like Judas, who took money for personal advantage. Later he was convicted, but the deed had been done.
I think most Christians are full of grace, because grace was given to us, and thank God for us all that it was! We learned it, and are still learning it, because we are still in life in THIS world! Our full deliverance is not until we are IN the next world. In the meantime, we have WORK here to do! God has expectations of us - for good!
I am not freaking out over wrong prophecy because I am seeking the Spirit more than the person. I have seen God turn good things sour when it was misused. It was a hard lesson, but it's part of discerning. Somewhat like the fly in good ointment - spoiled!
You know that happens all the time. What we thought was good, or something with a short shelf life is spoiled, like good food gone bad. Most of the wrong or delayed predictions are of more concern to them than to us really. You choose the good, and then forsake and forget the wrong. We don't want to be clouds without water, promising a refreshing but give no rain. That causes bitterness, a hope deferred that makes the heart sick.
When you learn the good of the Spirit, you realize it's like raising kids - you don't penalize or even make a big deal over everything they miss or do wrong. When they fall, you tell them get up again, and say "you are doing good!" because they are trying to do it right. They may have food all over their face, but they are learning to feed themselves!
You have a role to play in that, beyond just your own personal interests. We are a corporate Body too. Oh, what a difference a testimony can make!!!
We have to know the Word to discern good from evil. And we have to know that God offers HELP for those who struggle, and we all do. If someone makes a wrong prediction because they want well for you, then get over it. They may yet be right!
Or maybe we didn't understand the full circumstances. Maybe we didn't understand the contending for the good word fully. But we can learn and get it right!
Jesus said when HE is lifted up (the fullness of His Person and Ministry), then all men will be drawn to Him. And they will! Because HE is the Answer.
Pam Clark

Print Friendly