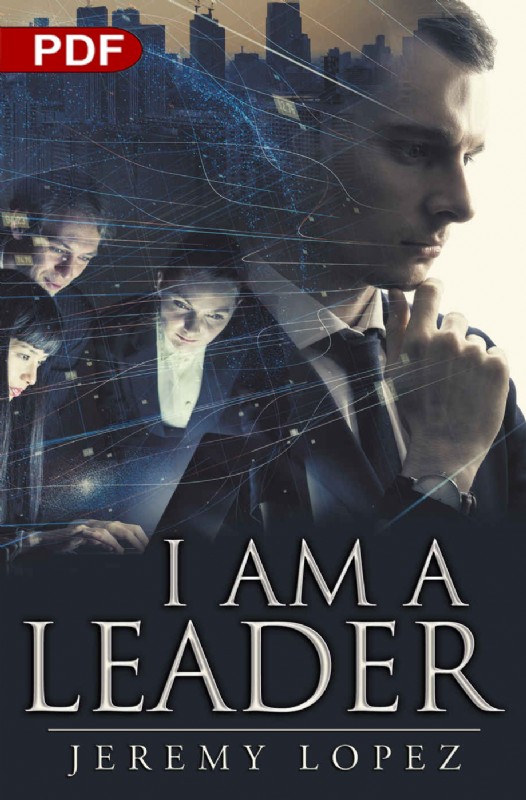 Ebook PDF Download
By Jeremy Lopez
Price: $18.99
There are apparently a lot of pastors who have dropped out of the ministry, from a report I heard. But I can tell you that most of those were following another minister and not the Lord Himself. There are some wonderful pastors and ministers, and there are many good messages! But if you don't know THE LORD Himself, you will question your faith at some point. And then so will those who follow you or them.
Many people do things because it seemed like the right thing to do at the time. I think we have all fallen for that line of thought at one point or another until we realized that wasn't good enough or even safe. Just because "everyone is doing it," whatever "it" is, is not enough. You have to have a spirit witness inside of you or you are lost and bobbling around like a cork in an ocean storm.
Lost people are afraid! I know people are going through the winds and waves in this season, because I have been going through them. They affect many of us because they are strong winds. And called ministers will go through things because they have to be equipped to minister to the people.
But the real test is not only finding the Lord, but teaching others how to find Him too. And if anyone is arrogant on that, but SEEMS wise, you can know they are not. Many will play off of other people's fears.
Earlier today the Lord was talking to me about the "image of jealousy." I felt a spiritual attack and was asking the Lord where it came from because it seemed like an angry spirit. I asked Him if I had made Him angry and I did not get a conviction that I had. Now I always know I can be better, not a day goes by that I don't know that, but I do give life an effort because I am not walking in faith if I don't! But as I was discerning that "angry" feeling that was not from "me," I heard in the Spirit "the image of jealousy" and then this explanation.
He said that the image of jealousy was not really a thing as much as it was an illusion. In God's Kingdom, He has pleasure in His servants. When God is pleased, His favor will come! But others see that favor and they get envious and jealous.
They are provoked and will send those spirit darts. But they are upset with "the image" of jealousy. For if they chose the way of the Lord, they could have that favor also! See, that "image" is a lie, saying "they can have, but you cannot." It's a lie! God is good and fair to all, you just have to get to know Him and find your purpose!
So I bound the spirit of anger and the attack seemed to subside. Many things we go through help us to learn. As ministers, we have to learn how to overcome for ourselves as well as for others. That is why it is called MINISTRY. You are called to minister to others and as such, you have to lay down your life and you don't get all the "perks" that it seems others get. A lot of things in my life were cut off so I could do what I do, and so that I can hear the way I hear.
Know Your Calling
On the "normal" scale (that no one really lives up to all the way anyway), I am somewhat normal and somewhat strange. I used to worry about that but then learned that worry is useless and often a hindrance. I just have to live MY life before Him - in the good and the bad and the bizarre or crazy. I don't get to choose my life, I have to LIVE my life. My security is in knowing what is AFTER this life - for eternity!
When I figure that out and know my calling, I can live an effective life. Scare stories are a dime a dozen and so are the great "opportunities" that people put before you.
Years ago I was a day trader in stocks and I did pretty well in what things I knew, which was mostly tech stuff. But I did well and got confident and ventured out some beyond what I knew and lost it all. But you know what? While it was a hard hit, I had so missed the Lord that I felt relief! Before I had to keep up with all the news and even then the timing thing was the big challenge. The "adventure" crept in slowly but I realized I had to "worry" about the news to do well. Well, that is not how God wanted me to live!
So I went through some "stuff" and it was hard but I was back into a better relationship with Him and so I was glad to suffer some for it. Learning from the Lord is a big deal and is very important.
For a season I started to follow others and not Him inside of me! The temptor is very subtle and tricky. He means us no good, but it will sound like it at the time. And you have all these great plans on what you are going to do with your benefits! But God really doesn't want to put you in charge because He knows what He wants to do and He likes His Plan better!
So it is a daily walk. We really do have to put our personal lives daily before the Lord and listen for His Voice, and be faithful even when we don't hear it always. He is testing us to see how much we have caught on. LATER when things get crazy - and life will get crazy because people are around - then we will see how our anchor is holding us - or not. Know what I mean? I think some of you do.
We get back to the basics again. Sometimes I need people and sometimes I don't! But I don't do that at my will, but His. And He gives a lot of leeway on some things.
Glorify Him, Not Flesh
When God shows me people, He shows me their spirit, not what they can do for me. Some I will admire for their progress, and some will admire me and some won't interest me at all because I am not where they are in their "zone." I have learned that it is not a comparison thing with God, except to glorify Him, not any flesh. If I am noticing flesh, then I have the problem and need to correct it.
So be careful when you see that "image" of jealousy because it is there as a trap. That comparison spirit has no good intention, unless it is provoking you to find the Lord! My biggest joy is the Lord in me and seeing Him in others. I don't grasp for it, "grasping", I hope to be provoked to challenge myself to seek Him more. Then I see more!
But if I compare, it is like King David sinning over taking the census. There will be a price to pay. He did that for his own ego, not the Lord. Although I am sure at the time that the devil gave him some really good (fake) reasoning.
We are NOT going under if we know the Lord. We may have to stretch some, but that stretch will make us stronger. God is not and has not given up His Power! We have to be careful of the "images" that are set before us. Keep the Word nearby, pray always. Your prayer life is the most important thing.
Jesus said that God is a Spirit and they that worship Him worship Him in Spirit and in Truth. He is the Way, the Truth and the Everlasting Life. It's the best deal.
Pam Clark

Print Friendly