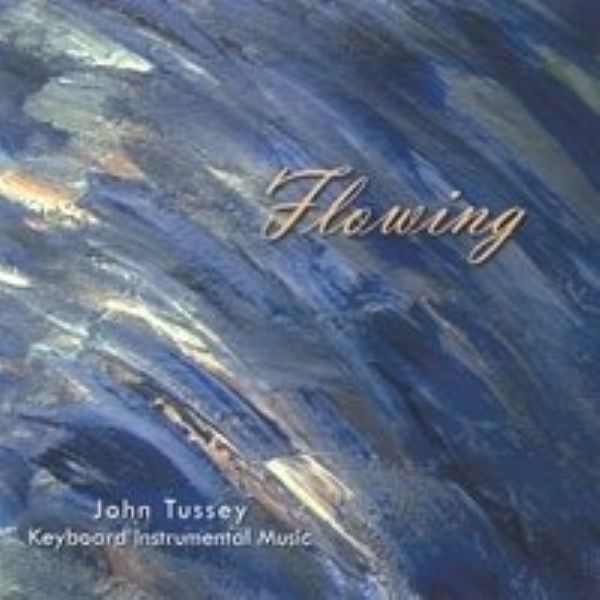 Flowing (Instrumental CD) by John Tussey
SKU#: PROD35809

"'Flowing' is a smooth, relaxing, anointed CD that I love to relax to. I highly recommend this man of God."

-Jeremy Lopez



Flowing
From gentle piano to serene synthesizer soundscapes, Flowing will truly bring you to another place. Peaceful, restful, inspiring and relaxing.
John Tussey's music releases the frequencies of heaven with a healing anointing. This music brings the atmosphere of heaven. Listeners experience peace, comfort and the healing embrace of the love of Jesus. John has heard his music referred to as "the sound of heaven." Many of the songs on his soaking CD's were downloaded to him as he recorded them. John's soaking CD's are highly favored in Hawaii where many lives have been deeply impacted by the music. John is very thankful to know this music is touching the hearts of both those who know the Lord as well as those who don't yet know Him. Many listeners from across the US and around the world have heard John's music on the Internet and continually send very encouraging heart-felt comments and testimonies.
John can be found on Facebook at: http://www.facebook.com/flowingmusichawaii
Encouraging Moment
Thinking of You
Ocean of Peace
A Land of Milk and Honey
At Rest
I Wait for You
Longing
Majestic Entrance
In Awe
Waves
Walking by Your Side
Quiet Place
A Glimpse of Heaven



Samples



What people are saying about John Tussey's music:
"As a musicologist, I have heard and enjoyed hundreds of albums sent to me from great artists worldwide. "Flowing," by my friend John Tussey, is my favorite piano-synthesizer album of all time! I have John's "Flowing" music playing all day in my home. I recommend this music to you and John's musical gift will take you into the high places of God's presence."
David Van Koevering
Visionary
www.elsewhen.com
"Awesome John. Love it .. This one is a must have. ...this is a truly amazing CD.
They are only going to get better and better."
Linda K.
Waipahu, Hawaii
"Thank you, Darling John! Thank you for creating in and by the Spirit to the Glory of G-d and to the Blessing of His People. True Blessing - Life Changing Blessing!!! It is different completely from all other and those who have an ear to hear know that, Brother! Shalom and BIG BLESSINGS to you from Zion!!"
Natalia Z.
Jerusalem, Israel
"I just loooovvvvveeeee your new album that is just out. Anyway, I have been playing it and playing it. It is just perfect for prayer and soaking, as the flow of the music, the cadence, everything is soothing and so peacefully relaxed.There are no abrupt changes, each lovely track, leads so smoothly right into the next track. It's wonderful."

Carolyn V.
Mililani, Hawai
"...This is soaking music of the best kind, letting the spirit and soul rest in the Lord. It disengages the soul left brain, lets me float, lets my spirit Rest as well as my soul/body, leaves room to hear the voice of the Lord (Father, Jesus, Holy Spirit). Thank you."
Janis K.
Burney, California
"...I listened and was so very moved and refreshed. You have definitely been given a wonderful gift in music by our Creator. The music that flows forth from your hands is like refreshing water being poured upon a dry and thirsty land - - the stress of the day melts away, the anointing of the Yeshua/Jesus falls down, and one is at peace. Thank you for allowing us to share in this precious gift you have been given. In these days of chaos, this type of music is much needed. Blessings!"
Kara C.
Albuquerque, New Mexico
"John your music is so refreshing and heavenly! I am listening to it now and It is such a blessing!!"
Betty S.

"WOW! This is beautiful music!...I love it!"
Kalena H.
Ewa Beach, Hawaii
"Wow, your music is beautiful! Do you have a CD out?"
Madeleine D.
Makawao, Hawaii
"Beautiful soaking worship. Thank you John"
Margie R.
Amarillo, Texas
"...I havent enjoyed piano like that since I was listening to George Winston in 9th grade.... Such a healing sound......"
Damon W.
Keaau, Hawaii
"Bless you John...you're a blessing to a whole lot of us through your beautiful music and heart. Thank you!"
Sandy I.
Honolulu, Hawaii
"Thank you so much dear brother in Christ, this music is such a blessing thats flowing into my soul, such a peace , so wonderful
Blessings !!!!!"
Katrien F.
"John your music is so beyond describing, beautiful and soothing isn't good enough. Being a musician myself I'm real sensitive to it especially the way it flows, and your music takes me places that I've never been, bringing tears into my eyes..."
Danny S.
Salem, New Jersey
"This music has the peace that only the Lord Jesus Christ gives, written all over it!"
David S.
Gibralter

"Your music is absolutely gorgeous. I love it."
Lisa B.
Woodinville, Washington
"LOVE" them John!!!!!Their everyone Beautiful, Awesome, oh and so much much more,,,Thanks,,,and Thanks"
Ron E.
Oklahoma City, Oklahoma
"This is really peaceful and very beautiful healing soaking music..."
Julie A.
"...Thank You for the Beautiful Music you bring into the Lives of so many..."
Lisa P.

"SHabba this is awesome!!!!!!!!!!!!!!!!!!!!!!!!!P)...your music is very, very anointed bless you!!:)"
Jeremiah G.
Manchester, Connecticut
"amazing music! Love it bro."
Matt S.
New York
"...thank you for your beautiful music!!! Wow, I have never slept better, your music plays all night as my daughter and I sleep!! You are a gift, your music is salve to our hearts!!!"
Lisa M.
Shingle Springs, California

"AWESOME! truly love the music ... am blessed! Thanks John for sharing and GOD always BLESS and USE u MORE n MORE!"
Kez M.
Dki Jakarta, Indonesia
"...What an inspiration & all glory & honor to our God for He used you by touching the hearts of many people...When I listened to your music yesterday, I've been thinking to share it right away with my team tonight at our practice right after our prayer meeting service..."
Zee M.
Cebu City, Philippines
"John's music is my personal Healing music- whether it's listening after a stress-filled day or recovering from illness.His music is peaceful and uplifting. The love you feel just flows through his fingers. John is an inspiration to me. When I listen I KNOW it will be a better day AND tomorrow!"
Marcia B.
Philadelphia, Pennsylvania
"I'm so grateful I had the opportunity to meet John Tussey while attending the same church. As well as purchase two of his CD'S 'Serenity' and 'Flowing.' While I love them both I absolutely go no where (literally traveling state to state) without my "Serenity" CD I enjoy it being the last thing I listen to in my busy hectic days...I really experience a peaceful sleep. I've packed it for my Labor Day weekend to Ocean Springs, Mississippi."
Lisadawn M.
Alabama
"I love your CD's, doesn't matter which one. If I'm going through a particularly challenging time, I go put on one of your CD's. If I'm going through a great time and I just want to sit and be intimate with my Papa, I put on one of your CD's. My current fave is 'Time and Eternity'...when I listen to it I am standing on top of the world looking into the universe with the wind in my hair...ahhhh! My second fave is 'Serenity'. The best is when I put three of your CD's into the player at one time and just let my spirit soar to sounds! Thanks John for sharing your amazing gifts! Can't wait for the next one to be done!"
Cheryl R.
Honolulu, Hawaii
"I wanted to share my testimony of my aunt who was suffering from stage 4 cancer constantly in pain and suffering. She was bed ridden and struggling to sleep. I felt lead to purchase your 'Flowing' CD and brought it to her for her listening enjoyment as well as to relieve some of her pain from the cancer. My relatives shared that they started playing your music daily which helped her to have more peace and reduce some of the intense pain in her body due to the cancer. The best part is her son, who is a Buddhist priest liked the music and will use it for his quiet time with his so call God. Yea God! I pray for his Buddhist family to all get saved and to know the real true God in Jesus Christ!
Keep up the great work for the Kingdom!"
Kevin W.
Honolulu, Hawaii
BIO: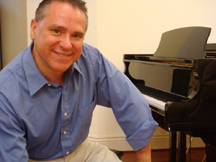 John Tussey has been playing piano for more than 48 years. In addition to being a keyboard recording artist, John is also a professional musician, arranger, composer, songwriter, private music instructor, accompanist, studio musician and music publisher. John began composing music at a very young age, but more consistently from the age of 17. Since 2004, 19 of his original piano pieces/arrangements have been published as sheet music. In 2005, John published a contemporary music theory book entitled, "
Chord Progression Ideas for the Contemporary Pianist."
He has released five keyboard CD's, "
Free Flow"
in 1996 including 13 original songs, "
Serenity"
in 2006, (all originals) "
Flowing"
(all originals) in 2008, "
Christmas Impressions"
in 2009 and "
Time and Eternity"
(all originals) in 2010. John's music has been heard on radio and television in Hawaii and the Philippines. His music has also been played on radio stations reaching into Europe and many Middle Eastern countries as well as several Internet radio stations. including Jango.
John is both a writer and publisher member of
ASCAP
(American Society of Composers, Authors and Publishers). He also holds membership in the

Honolulu Piano Teachers Association.
Since 2008, John has signed licenses with
M.U.S.Y.N.C., Trusonic
and
MUZAK
, the largest provider of business music in the U.S.
John's private music students include famous young performers/recording artists from Hawaii.
The response from customers who have purchased John's CD's has been nothing less than outstanding. Many testimonies from those throughout the US and in other nations as well have proven time and time again that John's music connects deeply with the heart of the listener. John is very grateful for this. Many who have purchased the "Serenity," "Flowing" and "Time and Eternity" CD's express their sense of peace and relaxation while listening. These are some of the highlights of what happened with the Free Flow" CD - music from the CD has been aired nationwide on radio in the nation of Estonia, as well as many other nations including those in the Middle East. Mike Rimmer of "Cross Rhythms" Magazine in England gave it a wonderful review - Issue #47. Music from the album was used on a Honolulu Cellular television commercial in the spring of 1998. The album has gone into many nations including distribution by ReSound in the US mainland, Praise Inc. in the Philippines, Alfa Y Omega in Spain, Omega Music in India and Nucleo in Portugal.
"Serenity," "Flowing" and "Time and Eternity" are soaking CD's. These CD's are also considered to be relaxation CD's by those who don't understand what soaking is all about. In addition to his own CD's, John has been involved with several other recording projects since 1996. He plans to continue recording original music as well as recording with other artists.
John's music re-entered the Hawaii film industry in March 2008 when several of his original tracks were used in a prime time documentary entitled, "We Serve: The Legacy of the Hawaii Lions." The documentary was made into a DVD which is currently for sale and copies were given to all the schools and libraries throughout Hawaii.
John has been involved in Christian Music ministry for 38 years. He has played in meetings with national award-winning watercolor artist Carolyn Blish (September 1980 – May 1981), former Miss America Evelyn Ay Sempier, Billy Graham's first lady of prayer - Millie Dienert, Gil Howard-Browne, Dr. Theo Walmarans, Stephen Bennett, Lillie Knauls, Bob Fitts, Viola Grafstrom, Reggie and Ladylove Smith, Natalie Grant, Jim Hester, Billy Burke, Jim Salvador, John Gilman, Dr. Petti Wagner, David Van Koevering, Paul Cox, Dr. Norvel Hayes, Jimmy and Becky Pearce, Cal Pierce (Healing Rooms), David Herzog, Randy Clark, Bob Jones, Tom Inglis (a worship leader for Integrity Hosanna! and founder of Psalmody International), Dr. Dennis Sempebwa (formerly of the group, Limit X), Emmanuel Cannistraci, Christian and Robin Harfouche, Pastor Wayne Cordiero (New Hope Christian Fellowship - Oahu, Honolulu HI), Pastor Nicholas Van Rensburg (Christian Family Church, Kapolei, HI) Pastor Dean Fujishima (Laulima Ministries, Honolulu, HI), Kainoa Iranon, Rabbi Daniel Vargas and John and Linda Keough (Healing Rooms Honolulu).
John desires to see his music span the globe through CD's, digital downloads, ringtones, television shows, radio stations including Internet, television and radio commercials, movies and documentaries, touching millions and millions of hearts. He believes the best is yet to come. John's heart in music ministry is first of all for listeners to experience the loving embrace of Jesus as well as healing, deliverance, peace, joy and hope.
John plays for the Healing Rooms Honolulu Soaking Nights the first Friday night of most every month in Mililani, Hawaii. He also plays most Sundays for ministry times at his home church in Kapolei, Hawaii. In addition to this, John has also provided soaking music for other ministries on the island of Oahu and continues to enthusiastically look forward to every new soaking ministry opportunity.
Product Details
Weight: 2 lbs.
Related Categories