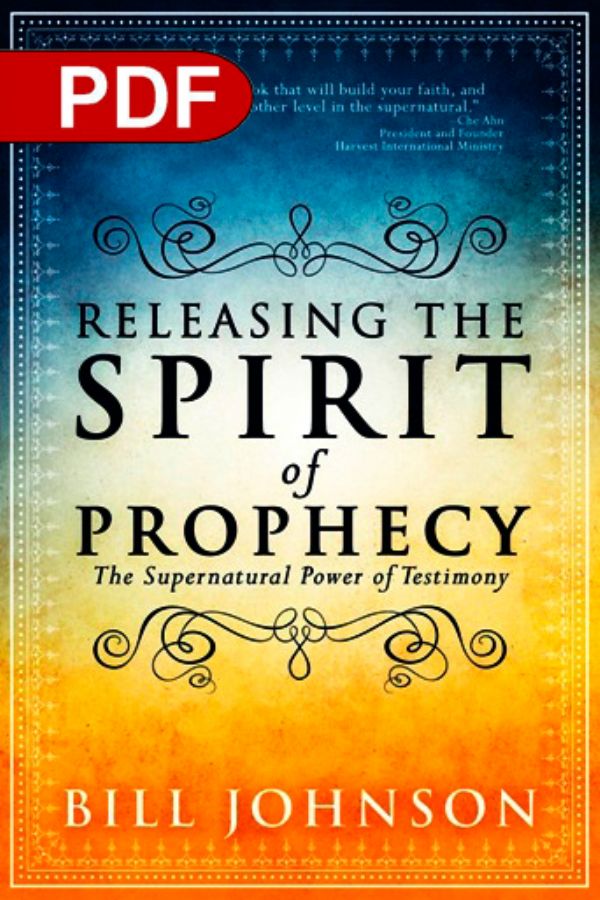 Releasing the Spirit of Prophecy: The Supernatural Power of Testimony (E-Book PDF Download) by Bill Johnson
SKU#: PROD55989
This is a digital downloadable item. You will download a copy of this digital product directly to you computer. No items will be shipped to you. All sales are final. No refunds. Should you have any questions please email customerservice@identitynetwork.net or call 205-362-7133.
The purchaser is responsible for downloading and transferring the product to their computer, smartphone, MP3 Player or to a blank CD or e-reading device.
All E-Books on Identity Network are in a PDF format. If you do not have Adobe Reader,
you may CLICK HERE to download a free copy.
Releasing the Spirit of Prophecy:
The Supernatural Power of Testimony
E-Book PDF Download
by Bill Johnson
Tell your story to everyone and

release the power of Jesus!

…For the testimony of Jesus is the spirit of prophecy (Revelation 19:10).
Telling others about the miracles in your life makes God more real to them. As people hear about God's supernatural acts, they start to expect and see the extraordinary happen in their own lives. As you share your miracle stories, you actually release the spirit of prophecy and declare into the atmosphere, "The Jesus Who transformed my circumstance will do the same for you!"

In this timely repackaged edition of Release the Power of Jesus, Pastor Bill Johnson shows you how to:
Release God's power wherever you go by simply talking about His miracles

Build a supernatural heritage by sharing stories of God's acts

Create an atmosphere of faith and expectancy for the healing power of Jesus

Activate everything you have received from God through inheritance

Your spiritual birthright is to experience and release the power of Jesus. Share your miracle stories and watch these prophecies of God's power set your world on fire today!

Product Information
Format: PDF Downlaod
Publication Date: 2014
Author Bio
Bill Johnson is a fifth-generation pastor with a rich heritage in the Holy Spirit. Together Bill and his wife serve a growing number of churches that have partnered for revival. This leadership network has crossed denominational lines, building relationships that enable church leaders to walk successfully in both purity and power. Bill and Brenda (Beni) Johnson are the senior pastors of Bethel Church, Redding, California.
Product Details
ISBN/UPC Code: 9780768404821
Related Categories