School of Prophetic Power (MP3 Download Course) by Dutch Sheets, James Goll, John Paul Jackson, Jeremy Lopez, Dennis Cramer and others
SKU#: PROD56249
This is a digital downloadable item. You will download a copy of this digital product directly to you computer. No items will be shipped to you. All sales are final. No refunds. Should you have any questions please email customerservice@identitynetwork.net or call 205-362-7133.
The purchaser is responsible for downloading and transferring the product to their computer, smartphone, MP3 Player or to a blank CD or e-reading device. 
All E-Books on Identity Network are in a PDF format. If you do not have Adobe Reader,
you may CLICK HERE to download a free copy.

School of Prophetic Power
MP3/MP4   4 Week Course Download
by Dutch Sheets, James Goll, John Paul Jackson,
Jeremy Lopez, Dennis Cramer and others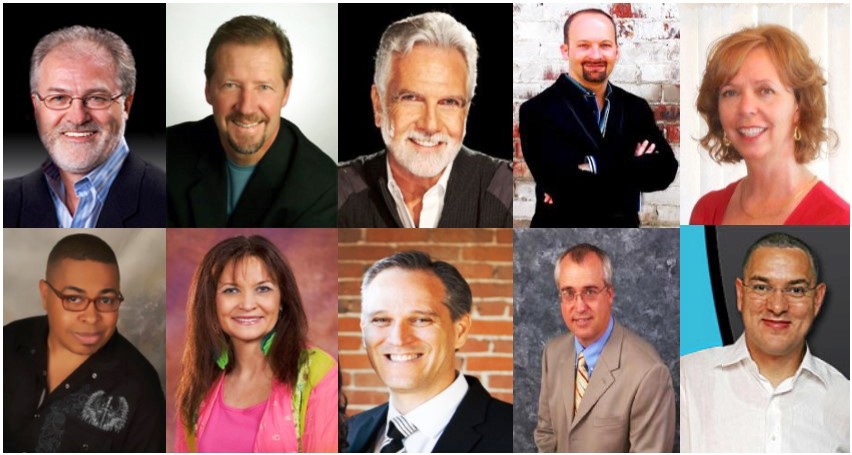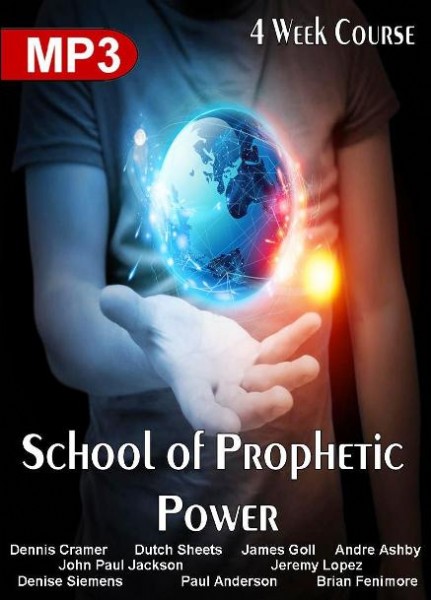 This is a "first" in its class that is exclusive to Identity Network that pertains strictly to this diversities of how these profound men and woman of God see the dimensions of the prophetic gift and how it functions in and through them. In this 4-week course, you will discover the definition, power and action of the prophetic parts and sides of God through the avenue of some of the most prominent cutting edge prophetic voices of our day. You will also learn the process, alignment, balance, instruction and lifestyle of what the prophetic is within your life! Get ready to discover things that will change your life forever! THIS COURSE AND TEACHINGS ARE ALL EXCLUSIVE TO IDENTITY NETWORK!
This course includes 14 full length cutting edge teachings such as:
1. Apostolic and Prophetic Alignment by Dutch Sheets (pt 1 and pt 2)
2. Discerning the Source of a Prophetic Word by Bill Lancaster
3. Responding to the Prophetic by John Paul Jackson
4. The Power of the Voice of God by Jeremy Lopez
5. Prophetic Instruction by Dennis Cramer 
6. How do You Process Your Prophetic Word by Paul Anderson (pt 1 and pt 2)
7. Being Relevantly Prophetic in Your Generation by James Goll
8. Prophetic Empowerment by Dennis Cramer
9. The Prophetic Word: The Balance Between by Brian Fenimore (pt 1 and pt 2)
10. Moving in the Prophetic: Knowing When to Quit by Denise Siemens
11. Releasing the Prophetic Breaker by Andre Ashby
12. Living A Prophetic Lifestyle by Denise Siemens
13. Contending For your Prophetic Promise by James Goll
14. The Process of the Prophetic Word by Jeremy Lopez
1. Syllabus for Course
        (We have laid out a course syllabus for you as a suggestion on how to make your way through the course in 4 weeks.)
1. (SPECIAL) DVD (MP4)- 'Prophetic History' by Kari Browning
1. Welcome Letter
1. Brochures, Coupons, etc.
Want More......
As our gift to you..... you will receive
the 3 following FREE bonus gifts:
(FREE) 1 - E- Book: Birthing Forth Your Prophetic Word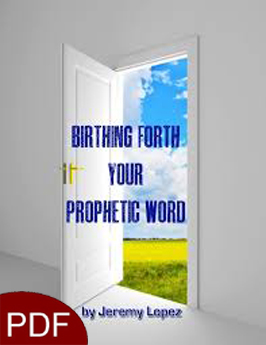 Have you ever received a word from the Lord and have no clue what to do next?
Do you know how to care for your prophecy and not abort it?
This teaching describes how your prophecy is like a seed in your womb waiting for its ninth month to birth forth into your destiny! In, Birthing Forth Your Prophecy, learn how to make your word from the Lord come ALIVE!
Some of the topics covered are:
·         The Prophetic Word is a Seed of Life
·         The Word of the Lord is Not Void of Power
·         Prophecy is Like a Baby
·         Prophecy has a Timetable
·         Don't Miss Your Day of Conception
·         The Prophetic Word Comes to You Already Preprogrammed for Success
·         Impregnation Begins When A Husband and Wife Come Together
.            When Impregnation Comes it Means That You Are No Longer Alone
·         The Prophetic Word Brings Forth Divine Order
·         When the Prophetic Word Comes it Changes Your Life
·         If You are not Ready for Change, You are not Ready for the Word of the Lord
·         You Are Preprogrammed for Success
·         God Has Given Us the Power of Decision
(FREE) 1- MP4 (DVD) 'Prophetic Insight' by Paul Cain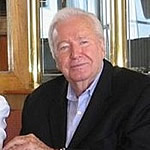 (FREE) 2- Prophetic Instructional Cards (Printable PDF)
1card on 'Giving A Prophetic Word' Card
1 card on 'Receiving A Prophetic Word' Card

Theses cards will give you guidelines on what to do when

you give a word and what you do when you receive a prophetic word.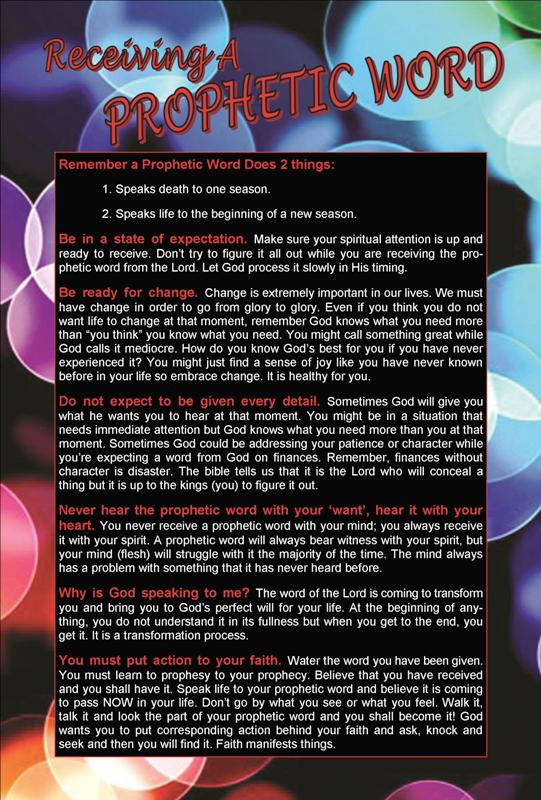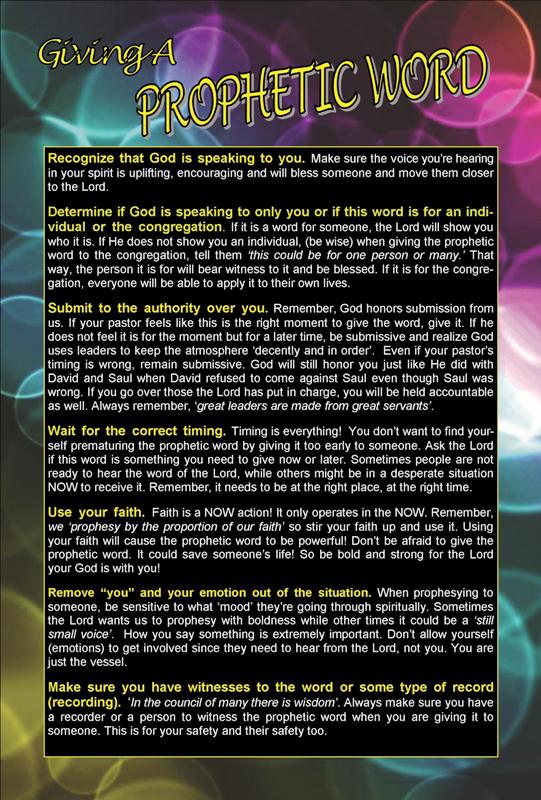 Product Details
Related Categories