Serenity (CD) by John Tussey
SKU#: PROD67850
Keyboard instrumentals - piano and synthesizer. Peaceful, inviting, relaxing, inspiring.This music will take you to another place.
Genre:
Easy Listening: Mood Music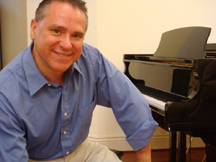 John Tussey has been playing piano for more than 48 years. In addition to being a keyboard recording artist, John is also a professional musician, arranger, composer, songwriter, private music instructor, accompanist, studio musician and music publisher. John began composing music at a very young age, but more consistently from the age of 17. Since 2004, 19 of his original piano pieces/arrangements have been published as sheet music. In 2005, John published a contemporary music theory book entitled, "Chord Progression Ideas for the Contemporary Pianist." He has released five keyboard CD's, "Free Flow" in 1996 including 13 original songs, "Serenity" in 2006, (all originals) "Flowing" (all originals) in 2008, "Christmas Impressions" in 2009 and "Time and Eternity" (all originals) in 2010. John's music has been heard on radio and television in Hawaii and the Philippines. His music has also been played on radio stations reaching into Europe and many Middle Eastern countries as well as several Internet radio stations. including Jango. John is both a writer and publisher member of ASCAP (American Society of Composers, Authors and Publishers). He also holds membership in the Honolulu Piano Teachers Association. Since 2008, John has signed licenses with M.U.S.Y.N.C., Trusonic and MUZAK, the largest provider of business music in the U.S. John's private music students include famous young performers/recording artists from Hawaii.
The response from customers who have purchased John's CD's has been nothing less than outstanding. Many testimonies from those throughout the US and in other nations as well have proven time and time again that John's music connects deeply with the heart of the listener. John is very grateful for this. Many who have purchased the "Serenity," "Flowing" and "Time and Eternity" CD's express their sense of peace and relaxation while listening. These are some of the highlights of what happened with the Free Flow" CD - music from the CD has been aired nationwide on radio in the nation of Estonia, as well as many other nations including those in the Middle East. Mike Rimmer of "Cross Rhythms" Magazine in England gave it a wonderful review - Issue #47. Music from the album was used on a Honolulu Cellular television commercial in the spring of 1998. The album has gone into many nations including distribution by ReSound in the US mainland, Praise Inc. in the Philippines, Alfa Y Omega in Spain, Omega Music in India and Nucleo in Portugal.
"Serenity," "Flowing" and "Time and Eternity" are soaking CD's. These CD's are also considered to be relaxation CD's by those who don't understand what soaking is all about. In addition to his own CD's, John has been involved with several other recording projects since 1996. He plans to continue recording original music as well as recording with other artists.
John's music re-entered the Hawaii film industry in March 2008 when several of his original tracks were used in a prime time documentary entitled, "We Serve: The Legacy of the Hawai`i Lions." The documentary was made into a DVD which is currently for sale and copies were given to all the schools and libraries throughout Hawaii.
John has been involved in Christian Music ministry for 38 years. He has played in meetings with national award-winning watercolor artist Carolyn Blish (September 1980 - May 1981), former Miss America Evelyn Ay Sempier, Billy Graham's first lady of prayer - Millie Dienert, Gil Howard-Browne, Dr. Theo Walmarans, Stephen Bennett, Lillie Knauls, Bob Fitts, Viola Grafstrom, Reggie and Ladylove Smith, Natalie Grant, Jim Hester, Billy Burke, Jim Salvador, John Gilman, Dr. Petti Wagner, David Van Koevering, Paul Cox, Dr. Norvel Hayes, Jimmy and Becky Pearce, Cal Pierce (Healing Rooms), David Herzog, Randy Clark, Bob Jones, Tom Inglis (a worship leader for Integrity Hosanna! and founder of Psalmody International), Dr. Dennis Sempebwa (formerly of the group, Limit X), Emmanuel Cannistraci, Christian and Robin Harfouche, Pastor Wayne Cordiero (New Hope Christian Fellowship - Oahu, Honolulu HI), Pastor Nicholas Van Rensburg (Christian Family Church, Kapolei, HI) Pastor Dean Fujishima (Laulima Ministries, Honolulu, HI), Kainoa Iranon, Rabbi Daniel Vargas and John and Linda Keough (Healing Rooms Honolulu).
John desires to see his music span the globe through CD's, digital downloads, ringtones, television shows, radio stations including Internet, television and radio commercials, movies and documentaries, touching millions and millions of hearts. He believes the best is yet to come. John's heart in music ministry is first of all for listeners to experience the loving embrace of Jesus as well as healing, deliverance, peace, joy and hope.
John plays for the Healing Rooms Honolulu Soaking Nights the first Friday night of most every month in Mililani, Hawaii. He also plays most Sundays for ministry times at his home church in Kapolei, Hawaii. In addition to this, John has also provided soaking music for other ministries on the island of Oahu and continues to enthusiastically look forward to every new soaking ministry opportunity.
Product Details
Weight: 1.5 lbs.
Related Categories