The Release of Fresh Zeal
Keith Miller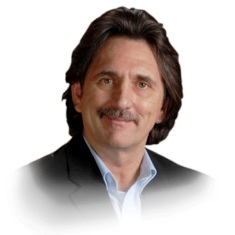 There is a deep stirring in the body of Christ by the Holy Spirit's unction that every believer should walk, live and operate out of the fullness of His precious Presence, Power and purpose for our lives. The Holy Spirit's desire is that you and I live every day in the fullness of the Lord, by seeing above and beyond what we can do, and that Jesus would receive glory and honor through His great power that works in us and through us. This is the essence of what Paul writes about Eph 3:20, 21: Now to Him who is able to do exceedingly abundantly above all that we ask or think, according to the power that works in us, to Him be glory in the church by Christ Jesus to all generations, forever and ever. Amen


The early church ministered in power. God sent them the Holy Spirit in Acts 2; "And suddenly there came a sound from heaven, as of a rushing mighty wind, and it filled the whole house where they were sitting" (Acts 2:2). I believe the rushing wind was the sound of heaven opening-an open heaven, and breakthrough had arrived. They pressed in for an open heaven, and instantly their ministry was transform to one of power.

Expect More!

We too should press in and expect something more! When the mighty wind rushes in, God will release us into even higher realms of this anointing of power. Every time the sound rushes forth, every time we see a movement of the Holy Spirit, He'll release a fresh anointing through the region. When this harvest explodes, the church will need more than one or a handful moving in His power, it will need hundreds and hundreds and hundreds of people moving in this kind of anointing.

I've seen God move in power. The church is headed toward this power realm of God. Jesus said in Matthew 26:64a, "'It is as you said. Nevertheless, I say to you, hereafter you will see the Son of Man sitting at the right hand of the Power'." The church is about to receive a revelation of power beyond anything ever seen or spoken of. As we behold Him, we can minister out of that power!
Power Mantles Release Prophetic Strategies

With this power anointing, the Lord is releasing words of prophetic strategies. That will be like fire in people's bones. As the Lord releases the rhema word it will be divine impartation of purpose!
As people received the anointing of Power (Acts 10:38) they will go forth into the masses of humanity with the Word of the Lord.

God wants to release the kind of word and anointing that causes humanity to turn around and take notice. God will impart a fresh download from the Holy Spirit in the area of prophetic strategies for your ministry-the Word of the Lord as fire in your bones.

Prophetic strategies release zeal and passion. The Lord wants to breakthrough with breakout even in our thinking-He wants us to lift our eyes up higher, understand His vastness, and begin to move with the mindset that we can go in and take cities for the glory of the Lord. Hallelujah!

The Release of Fresh Zeal

We need this zeal. We need fiery preaching. We need fiery witnessing. We need fiery living!
We need the passion of the Lord. The Bible says the government of the Lord is going to increase through the zeal of the Lord (Is 9:7). The Lord is releasing fresh zeal, zeal that burns deep within our bones. What's zeal like? You can't help but talk about it. You can't help but tell others what you are experiencing. You can't help but decree the word of the Lord. You can't help but tell what you heard in secret declared on the rooftops. It's a fiery fire in your bones!

There's a difference between man's zeal and God's zeal. Man's zeal is for gain and recognition. With God's zeal you just can't help yourself! There's compulsion! You don't know why you you're doing it, but you just have to speak about God! It burns in you. The Lord wants to release fresh, prophetic download-not just to a few, but to the whole body of Christ, that the Word of the Lord would burn in us and give us His zeal to speak it forth, to minister in it, and to walk it out.

You can live in the strength of the Lord. When you decree, you are not just reciting a scripture, but it becomes revelation that breaks forth in your life. When you say, "I can do all things through Christ who strengthens me," you are actually living in that realm.

Waves of Zeal

I believe there's about to be a wave of this zeal, a wave of prophetic download, a wave of this creative power, a wave of this anointing that will hit the church, and we're going to be amazed by those who rise up with the Word of the Lord. Multitudes will take notice as God's Word is preached with power, and as His will is done with authority. Those with His zeal will have His power. It won't be charisma, but His power. When they speak, the words will carry authority and cause people to ask, "What must we do to be saved?"
Anointing and Power Release Boldness

"Now this is the confidence that we have in Him, that if we ask anything according to His will, He hears us" (1 John 5:14). Who hears us? God. Is anything impossible for God? If He hears you, you have somebody's ear! When you live in the realm of knowing the Beloved, the opinions of others toward you won't affect you. There's no feeling of insecurity, because you know the One that counts is with you and you are accepted by the greatest Love of all loves. There is a confidence released in you that flattens rejection and insecurity, and helps you to walk without fear or intimidation. You will walk in the holy boldness of the Lord. That is what John speaks of-a confidence that we have in God where we can ask anything of Him, " . . . and if we know that He hears us, whatever we ask, we know that we have the petitions that we have asked of Him." Meaning, that if we are asking according to His will, we have a confidence in our inner man that God hears us, and if God hears us, He is faithful to grant our petitions. The church is about to live in that realm.

Praying according to God's Will Increases Boldness

God wants to give us a fresh boldness to pray for others-a confidence. In this context, the word confidence means boldness. God gives us confidence through our personal prayers. It's a place of holy boldness within us that compels us to pray in accordance with the will of God and to expect His will to come to pass. It's a knowing.
Do you want to have a fresh anointing of the confidence that He hears and answers your prayers? Do you understand that there is a place in the anointing where you don't and won't even doubt? When you are ministering, decreeing, and operating within this realm, it doesn't matter if the answer isn't instantaneous. There's something in you that knows it will happen.
When you know you have heard and know His will, then He'll release this boldness in you, and you will know that whatever you ask according to His will, He will do!

Prophetic Decrees

What we decree will happen. What we decree shall be established if we're hearing according to God's will (Job 22:28, 27). In this realm, the people of God speak with an authority that releases heaven on earth. God wants to impart confidence and powerful prophetic decrees through you. He wants to give you the ability to decree confidently His will for your home, your kids, your family, your church, your city, and regions.

God will train us in our words because they carry weight. He doesn't want them to fall to the ground; He doesn't want our words judgmental or critical but to judge according to His righteousness and grace. He wants our words to accomplish what He speaks! When we pray or make a decree, He'll establish it, because we've heard Him on it and we are in sync with His heart and mind. Then He will release grace upon the church-He'll grace the church with success. However, even in the midst of success, we cannot stop and settle. There's more-there's always more.
Press in for a Revelation of His Vastness

We have to be careful when the success comes. The early church had a move of God in Acts 2-there was a tremendous outpouring, but they didn't stop there. In fact, right in the middle of their revival, persecution came. Nevertheless, they kept pressing in for more and in Acts 4:24 they declared that God made the heavens and earth and asked Him for a greater realm of understanding of His vastness. And what they asked Him for in verse 28: "To do whatever Your hand and You purposed before to be done." They simply wanted His will. They asked for a realm of understanding of God's vastness beyond their ability, beyond what they were already walking in. They had already been moving in God's will, they'd seen Jerusalem impacted; but they knew that the word of the Lord was not for Jerusalem only, nor Judea, but for Samaria and the uttermost part of the world. They were equipped with an anointing to see Jerusalem saved, but they weren't going to settle for that. Even in their success, they didn't stop-they said, "You promised us the uttermost part of the world. We want an anointing for the world. Let us behold You like we haven't beheld You before."

See How Big God Is!

They asked for a revelation of His vastness, to know His will, and for holy boldness! "Now grant to your servants with all boldness that we will be able to speak your purpose." If God graces you with the anointing to see more and you are thinking too small, you will miss all He has for you. God wants us to live in a realm where we see how big He is-where we know the impossible is possible, regardless of our upbringing, where we are in life, or what other people say, we know that God can do all things. Then, when we receive the download of the will of God, He'll release boldness and great confidence deep within you. You'll say, "I've heard God and I'm not going to stop. I'm not turning to the left. I'm not turning to the right. I'm going to press in, press in, and press in again until I see the fullness of what He's spoken to me."

Boldness is an inward work. It's a confidence. If you pray according to God's will, a confidence rises from within that compels you to decree it, walk in it, and see the fulfillment of it. Prophecy is awesome, but we need to see the fulfillment of it in our lives. We need the confidence and boldness that comes from hearing His will and praying accordingly.

The early church asked for even more when they cried out to the Lord, "'Now, Lord, look on their threats, and grant to Your servants that with all boldness they may speak Your word, by stretching out Your hand to heal, and that signs and wonders may be done through the name of Your holy Servant Jesus.' And when they had prayed, the place where they were assembled together was shaken; and they were all filled with the Holy Spirit, and they spoke the word of God with boldness" (Acts 4:29-31).

We will be asking and contending for every person to receive from the Lord fresh anointing and power anointing with prophetic strategies and decrees. A new level of confidence and boldness deep in your inner man; and the Spirit of wisdom and revelation will reveal God's will for your life and the lives of those around you.

Breakthrough brings breakout. The sword of the Lord cuts through and reveals the intents of the heart. His sword brings out what is God and what is not, and it is sweeping across congregations, cities, regions, nations. God is doing deep things within the body of Christ to prepare us for the coming wave. Ask Him to equip you with that fresh Hebrews 2:4 anointing of power and boldness, ask for Holy zeal and a revelation of His vastness, ask for an open heaven, and then step out within that realm to change the world and watch God move! Behold the arm of God, His strength, His power, His might!


"Rend the Heavens Lord and pour out a Mighty Anointing of the Holy Spirit........
"Come sit upon every person with a fiery baptism of Holy Fire!"